5 years ago · 4 min. reading time · visibility ~100 ·
Wassifi, Ahmed and the Moroccan Pastries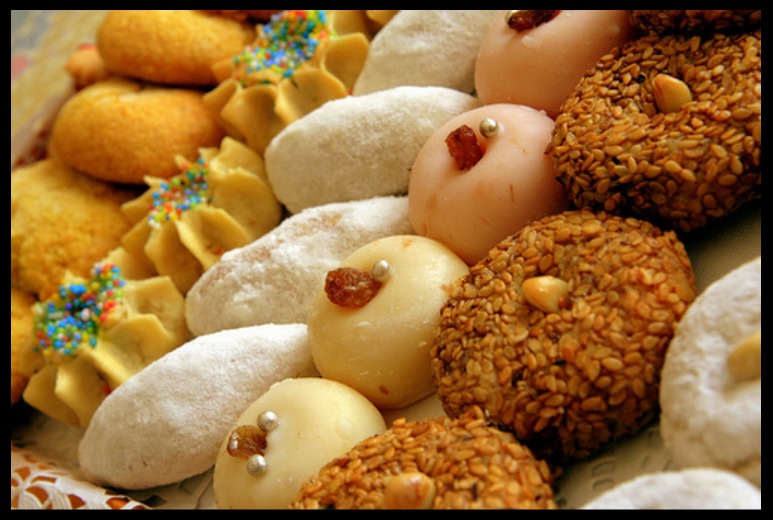 A couple of years ago we spent our family summer holidays in Costa De La Luz the sun soaked corner of Spain, the kids loved going to Gibraltar nearby and were absolutely fascinated by the rock and the monkeys let alone the fact that this was a tiny bit of Britain squeezed between Spain and North Africa. We had great time there and one day we decided to organize a day trip to Tangier in Morocco.
After a short boat trip and customs check I found myself in Morocco for the second time in the iconic city of Tangier the king summer's residence. We all speak or understand French so we managed to short cut the tourists idiomatic traps, little miss was treated like a little queen and probably enjoyed the attention while our eldest mixed with the boys and tried camel riding in front of the King's palace.
@ Lunch time, we enjoyed a traditional Tajine, water and mint tea. On the latter, I must say it was not an instant hit with the kids who were more inclined to get sodas instead as a treat, question of taste I suppose. At the end of the meal the elegant and well-mannered waiter offered us some traditional pastries which I was the only to take him up on the offer. As soon as I got the first bite there was a succession of monologues punctuated by hmm sounds and other yummy celebrations. It turned out to be a very familiar taste indeed. I had almost forgotten how good that was, when was the last time I had such a distinct sugary flavour dancing around my taste buds? My mind started to wander and triggered some vagabond thoughts.
November 1981 I think, but my memory is sometimes acting up so it could well be the year after. I don't know if it was move number 15 or numero 16 what is sure is that I was well versed in the art of moving houses and helping the box movers. We had left Britany to move 400 kilometres west in the lowest part of the Normandy region close to the Sarthe Border, I had spent only two months in the previous class going thru the motions and not investing too much knowing I would move again to a new school and new environment @ mid-term break.
Alencon was the name of the city, a small attractive and provincial town of twenty six thousand souls which claim to fame was to be the headquarter of national pride small electrical appliances maker Moulinex. We arrived on a Monday, my mum had secured some cleaning jobs and my dad was to start the day after. They left me to my own device and I took the opportunity to explore the city on my bike the remainder of the week.
We lived in a small five storey building next to a bigger tower sitting in front of a small shopping centre. My new school was across the shopping centre and the walk to school was less than 7 minutes that would be new to me and that was not the only adjustment I would have to make. This was what they called an experimental school, there was no surrounding walls and it was fully integrated within the urban landscape, no big buildings in sight but a succession of smaller detached and semidetached cottages in which two or three classes had been set up. The teaching techniques were also new including creative writing which I enjoyed immensely, focus on languages and history, everything was somewhat progressive even though I did not even understand what that word meant at the time.
Everything was different but one thing remained the same: change. I was not apprehensive in joining a new class but I was not naïve either. After the roll call it turns out that the first class of the day was to be cancelled, different groups gathered together and were debating what to do to kill the two hours ahead; should they head to the shopping mall, go home or go to the library, some even mentioned doing a game of snow ball as it had snowed at the week end. I was observing and not really saying anything until two lads came to me and asked me if I wanted to join them.
With no other alternative than saying yes I jumped at the offer and I found myself walking with my two new class mates. Wassifi was from Morocco and told me he moved over to France when he was one, he also told me his first name was a surname but his parents were not well known for doing stuff the usual way. I liked him immediately, he had a big smile and laughing eyes, Ahmed parents were from Algeria and he was born In Alencon himself he was a genuinely nice guy, full of energy, chatty sometimes too much and always ready to come up with true or invented stories. What stroked me the most was their complicity, they were like brothers in arms and it was obvious the two of them personified generosity and kindness.
When I enquired about where we were going I quickly realized we were not heading to the shopping mall instead Wassifi had made the executive decision to bring us to his parents apartment 10 minutes from there. We climbed the 3 stairs and I found myself in a different world anything from the rugs, the soft sofas and paintings were bright and colourful, I thought for a moment that I had been transported to a different country. I was greeted by Wassifi's mum, she asked who I was, where did I come from (I had a funny accent) and a few minutes later I was offered some homemade pastries……
I did not change school again until the end of the school year so I became a regular at Wassifi's household, I would drop by after school with my two amigos but sometimes dared to climb the three stairs on my own as we did not always follow the same subjects despite being in the same class, Leyla was always good to me especially when she realized I had developed a soft spot for her Moroccan specialities.
We moved again, I lost contact as you do when you are 12, I don't know if Leyla is still alive or where are my two long lost friends but anyway I think it's time for a long overdue
Wa alikoum salam
Sources
Move, school, Morocco and friendship
Photo credits
Patisseries Marocaines par akkajou
You have no groups that fit your search