5 years ago · 3 min. reading time · visibility ~10 ·
The Wellingtons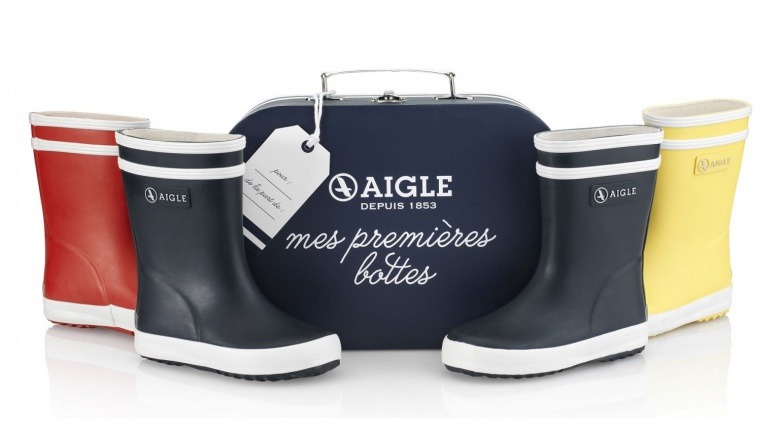 I was in such admiration of my new wellington boots, never in my wildest dreams I thought I would own a pair of Aigle. I was 10 and half on this wet March 1979 when my auntie took me shopping to what was to me a high end shop and 90 francs was abnormally expensive even for a prestigious brand when my best runners bought in a local supermarket were probably about 10 francs.
I should not have been here in Normandy near Deauville at that time of the year, in theory I should have been at school where I lived and that was Britany. I did not know either that I was about to break free from school or any supervised constraints for 10 to 12 weeks.
I had never been at my grandfather's stud at that time of the year and the mansion like house with its numerous bedrooms looked like a massive castle more than ever. It was also unusual for me to get so much attention from my uncles and aunties who took turn to take me to fishing trips, fun fairs, bought me almost whatever I wanted including the purchase of a complete new wardrobe with a few toys thrown in to make good figure.
It's raining hard in Brittany that night, it's probably 3 o clock in the morning. Hotel Dulange ''2 stars with petit dejeuner inclus'' this is a small part of what my mind registered when we left the taxi, I remember I had never been in a taxi before. The driver gave the change to my mum and we went to the reception area once the door got opened by the night manager on duty. We got a room with one bed and I felt asleep in my clothes almost immediately, we had no light bags or luggage's.
A few hours earlier I had been in my own bedroom, my door was closed. Adults were shouting, screaming and crying, I heard some porcelain falling and crashing on the floor, doors were slammed and insults were exchanged. I tried to make myself small and put two cushions on my ears so much I wanted the noise to stop, I could not take any more of this tension, I wanted the noise to go away I just wanted to sleep and make this nightmare that was ours disapear.
Then the door opened suddenly and it's my father!! At first I did not understand what he was saying, he was shouting get out! get out!! get the f..ck out of here!!! his eyes seemed to have blood in them probably the result of more than a few empty beers spotted in a sink. I am in PJ's I said… he stopped as if he was realizing how ackward all this was, but then he threw my jeans, my sweat shirt and a jacket in my direction almost like if he was doing me a favour.
My mum was already in the stairwell, I could see she had been crying and I am almost sure Mme Duchene was awake too and observing the scene thru the eye locker. Maybe she was not the only one but nobody intervened, this is intriguing at best providing there had been so much noise. Most of the neighbours had always been nice to me in a way that seemed to acknowledge that life should be made easier for little boys.
We are 11 weeks in Normandy now, I have enjoyed my pair of Wellington so much that I have been cleaning them almost every evening before reading my Buffalo Bill adventures book, I have done a lot of things I would normally don't, my grandmother cooked me all my favourite meals and my grand-father took me with him most days on the jeep to feed the horses at remote stables.
My mother called me in and took me to her room, she asked me how was my day and then handed me a letter before asking me to read it. It's from your father. At first I refused to take it, this was a reflex I guess as I did not want any of this toxicity been thrown at me again. She asked me again, I took it reluctantly and I read it.
I did not understand everything but there were words of love, sorrow, remorse and gratefulness. It was not strictly speaking addressed to me but there some mention of forgiveness and giving it another try.
I gave the letter back to my mum, I think my eyes were wet when she asked me to make and take a decision, she would do whatever I would say we should do…… I did not process the information really fast but did my best to visualize not only my future but what the future of two adults could be.
Our future was in my hands and for whatever reasons I realized I still had my wellington boots on, at that thought I seemed to ask myself would my grandmother kill me if she knew I was in one of her pristine rooms without my sleepers on.
I closed my eyes briefly and when I opened them I told my mum that
WE SHOULD GO BACK
Sources
Life & stuff
Photo Credits
Aigle
Produced for beBee only
You have no groups that fit your search