4 years ago · 4 min. reading time · visibility 0 ·
Outtaline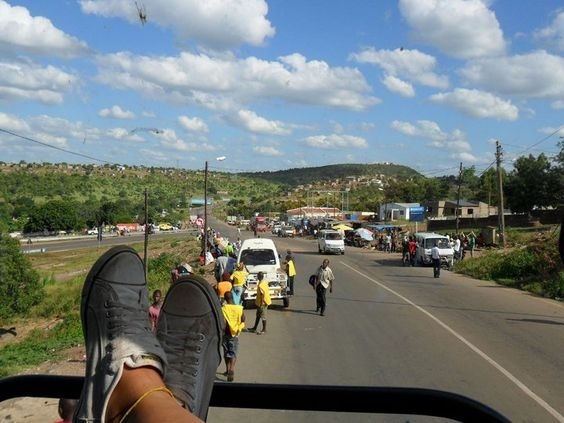 Let's travel back in time if you don't mind, don't worry it won't be too far back just around the corner sometime in 2004. We got up early and have been driving for while direction Maputo the capital of Mozambique. As we speak the four of us (+yourself) are still in South Africa driving a comfortable jeep in the middle of the Eastern Transvaal Province. But first let me introduce you to Mike who is the driver for the day, John a friend of Mike, today's crew of 4 is completed by myself and my lovely other Irish half.
My wife and I have been in South Africa for a little over four days landing in Johannesburg earlier that week, we swiftly got into a rental car and drove towards the Mpumalanga region which is stuck between Swaziland, Gauteng and Kruger park. We reached our destination by lunch time: a beautiful colonial mansion transformed into a large half board B&B and since we arrived early that day we decided to drive to the small local town to get a few supplies.
I forgot the name of the small urban oasis we were going to but I remember clearly the long one way road that was surrounded by empty shacks, a disused petrol station and what seemed to be a bar and a supermarket.
We were looking at buying a few things in this well provisioned store including water. After ten minutes in the premises it was obvious most of the customers and staff were looking at us, for some expressing surprise edging on stupefaction while others smiled at the fact that those two were probably not from around here.
At that point both of us being bilingual we switched to French and somewhat realized we had unconsciously crossed a line. We got a bit antsy and hurried back in the direction of the car. The vehicle being parked in front of what I think was a bar, we decided to get a drink before heading back to our base.
Within twenty seconds I almost regretted our decision, the bar was almost empty bar three customers, one was old enough to be Tutankhamun and was half asleep while the two others were probably rangers of some kind if I judged by the attire. The barman had probably forgotten to shave and shower for an undetermined number of days and his indelicate fumet preceded his questions.'' You guys not from around?'' '' nope'' we said adding we purchased some stuff at the supermarket opposite the bar before coming in
''You guys went in there, fair play to you because it stinks in there, I would never set a foot in that waste mate there is a shop up the road for people like us'' and with disapprobation he served us two refreshing drinks. Outalline again I thought to myself.
That was a few days ago, so let me fast forward the story back to the current trip for your comfort. We are ten minutes away from the border Mike is suddenly getting very serious, his British tone says that from now on he will be doing the talking, we will stay in the car while he and John will be dealing with the customs on the Mozambique side of things.
When I ask how long the formality will take, Mike nervously answers anything from ten minutes to two hours it will all depend on the asking price. Surprised by the answer we are none the less surrendering a few more dollars to acquire our passage stamp and the precious visa.
We are going thru the South African customs within five minutes and are finding ourselves parked besides two SA trucks at the Mozambique Border Control. Before Mike and John head to the officials they take our passports and tell us to hide anything of value in case some soldiers drop by. If that occurred, we are told not to argue and give them whatever they want he adds that he could always sort it afterwards if necessary.
The border control is a hive of activity with people coming and going, I am not too sure who is a soldier and who is a policeman or even a custom official so much there is a patchwork and diversity in terms of uniforms and dressing. Some wear combat fatigues and you would think others were about to get on a parade while a handful of men are wearing half of a navy uniform with an official badge on their once white shirt.
It suddenly gets warmer, the sentry in front of us is staring at us with insistence but I cannot see his eyes behind his fake Ray Bans, one chap with a menacing and threatening stare is coming to us and my heart is pounding fast when I told my wife to shush. I am very unsure at the minute if that guy is for real or if it is for the show but what if he is a real Jackass? He is probably sensing our apprehension, smiles to himself and turns back deciding that it is probably enough tourist scare for the day.
After an hour and forty minutes, we get clearance. As soon as we get on the road noticeable aspects of a previous conflict are apparent, bullet holes, ruins and other warfare signs are obvious on both sides of the road, the surface gives tarmac a relief in some part of the journey and a large sandy trail takes over adding some difficulty to the driving towards the capital.
I don't remember much of Maputo to be honest except that the South African registered car got surrounded by a sea of beggars at a cross road before we reached the sea side. At that point I noted that the humidity gave way to a nice and pleasant breeze.
It is five o'clock on the same day now, if you are still with me I would like to remind you that we are up since six am this morning and we have crossed the border uneventfully for a second time in less than eight hours, you may agree with me that it has been a tiring and an emotional roller coaster of a day.
That's said, we are all a bit more relaxed now including Mike, John cracks a few jokes with his Dutch like accent leading to more banter between the four of us. I have moved to the front and sitting behind the black cockpit, I end up detaching myself from the discussion.
I smile at my day dream thinking that if I am honest with myself the whole experience has been a bit
BORDERLINE
Sources
2004
Photo Credit
Mozambique/SA Border
Andrea Giraldo Tabares
Produced for beBee Only
"
You have no groups that fit your search