6 months ago · 2 min. reading time · visibility ~100 ·
A Wheelie Good Tuesday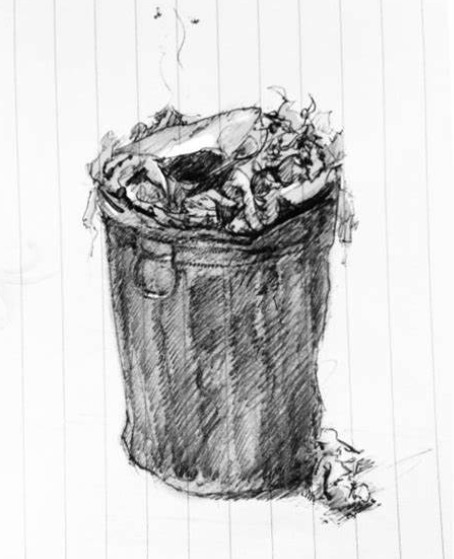 I don't know you but in my part of the world the residential bins are collected once a week. The general waste one week and the two other recycling bins every second Tuesday. As it happened I had prepared the two recycling bins that Monday evening. By preparing I mean I moved them from one side of the house to the front of the house for collection. They rarely collect them before nine so I tend to park them near one of our bushes ready to be wheeled early and closer to the street on the morning of the collection day. In our case its every Tuesday.
So why are we talking about bins. Well I am not going to talk about waste, garbage , trash or lecture you about the green agenda. No what I want to talk about is a very brief encounter with the bin man. I don't know his first name or even his name for that matter. I would normally don't see him or any of his colleagues but I had a bit of overflow waste which I had kept into the house with a view to dump the extra cardboard and the likes when they would empty the two wheelie bins.
At first I heard the familiar sound of the waste compactor doing what it does best and the nearly as recognisable beeping from the truck when it makes an attempt to reverse through some narrow streets. As I was downstairs at home thanks to our third and longest lockdown I thought I would stick around and wait for the guys to do their job. In turn this would allow me to refill partially but almost instantly the bins with the two gigantic card board pieces and one sizeable biodegradable bag of green waste.
At first the only thing that grabbed my attention was the one of the guys was only wearing a t shirt but he had Whooley hat on his head. I vaguely thought to myself that it was odd. Now its nippy enough even in Spring time in Ireland and his colleague was certainly not as brave as he was because he was still sporting the winter jacket provided by his company.
The truck parked momentarily in front of our house allowing Mr T shirt to take our two bins to the mobile compactor. As I saw it happening I thought I would anticipate my move and after thanking him for emptying the wheelie recipients I was planning to partially refill them when he asked me if I wanted to give the extra stuff to him and he would put it straight in the gargantuan mechanical mouth.
I asked him if he was sure that was OK, he replied in a typical Irish twang that sure it was grand and that it would save me some space on the next round. He briefly added that with lockdown he had noticed an increase in packaging waste and he was happy to help that way.
A feeling of gratitude almost happiness overwhelmed me and I thank him profusely. I don't know why but I told him he was giving me the shivers with wearing only a t shirt. He smiled , winked at me and wished me a good day.
It may seems trivial but this small and ordinary encounter made my day.
ChristyMoore - Ordinary Man (Official Live Video) - YouTube
Pascal Derrien Copyright 2021
You have no groups that fit your search