4 years ago · 4 min. reading time · visibility 0 ·
Marguerite & The Last Stand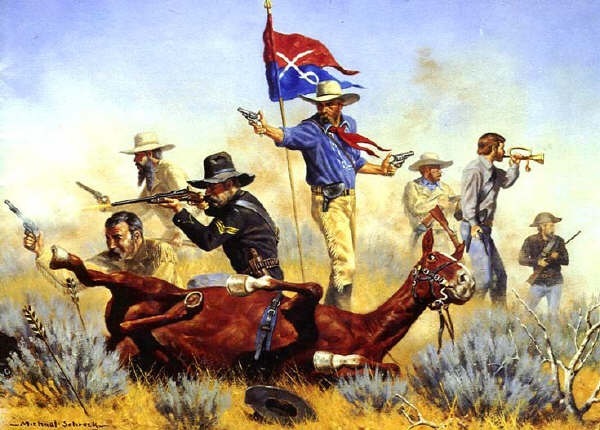 Marguerite was her name, it means Daisy in English and she was my gran. She was my dad's mum, she did not have much French and spoke mainly Gallo (Breton), she could count but did not read very well, I suppose she was very uneducated by today's standards but she had a heart of gold. My paternal grand-parents came from a very poor background, my grandfather was working as a handler for whoever would hire him and my grandmother was supplementing the meagre family income by cultivating a large field which proceeds were sold on the local village market.
She had been to the local big town Lorient less than ten times in her life but she knew everything there was to know about wild mushrooms, she would make the best pancakes and in season chestnuts would fight against each other to end up on the old stove that served as a cooker and heater in the decayed two room house she was living in with her husband.
My dad was temporary assigned to Brittany in 1976 and we lived in three or four different places but all had in common not to be more than two or three hours away from my grand-parents so I got to know them a bit better. This year was also the year of the big drought in France but more importantly for me it was the year that Panini issued its West Sticker Album.
The purpose of the album was to retrace the steps of the history of the US and Canada thru the Indian wars, spotlight the early tribes struggles with the white men, hop onto the civil war and other historic milestones leading to the establishment of the America of the 20th century, for that you had to buy a 5-sticker pack that would help you to fill the blanks while progressing with the stories.
It became one of the most cherished item of my childhood and I could be seen flickering thru it on a regular basis while learning about the Algonquin, the Apaches, the Huron tribe or the Little Big Horn tragedy. I was bringing the album almost everywhere and showing it to my gran was no exception. Oddly enough Marguerite took a big interest on my progress as she seemed to be as equally smitten by the graphics and concept than I was.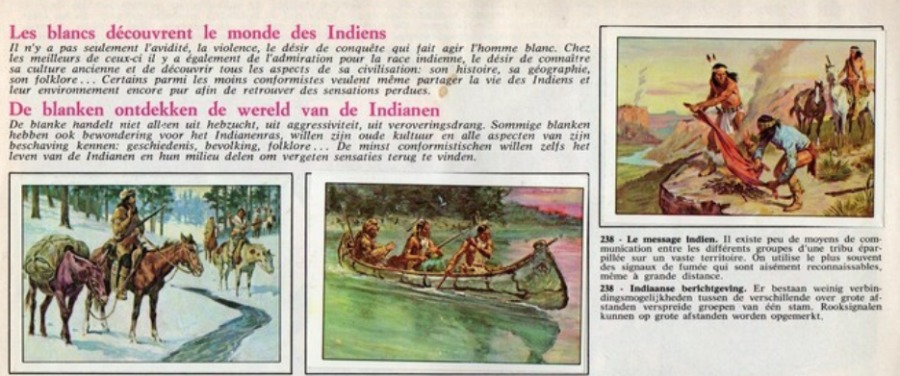 A few Sundays went by and one day she asked me if I wanted Pancakes for the next Sunday since we were coming towards the end of the chestnuts season. I said yes and was looking forward to the following week end since I knew I was in for a treat, on my arrival that Sunday not only I had crepe au froment and crepe de ble noir but there was also a 5-sticker pack for my favourite album waiting for me.
She looked at me maliciously with her sparkling eyes, she probably had gone to a lot of trouble to obtain this as I am not  sure it was even sold at the local Cafe Tabac but for me it was the intent that counted the most. We had some difficulty to communicate at times as I only had two or three words of Gallo but I was the happiest boy that Sunday and I think my good mood got very contagious throughout the whole family that afternoon.
More Sundays went by until I was explained that Gran had fallen ill and that I was not to be surprised to see Gran was staying in the kitchen ''bed''. At first I, did not take notice but as more Sundays were swallowed by time going by I realized she had not moved from the kitchen and you had to be a fool not to see she was deteriorating. One Sunday morning as I was getting ready to go to my grandparent's I was told by my father that Marguerite had been transferred to the Bodelio Hospital in Lorient.
What I understood from adults' conversations is that cancer had overtaken her body and that she had waited too long before allowing a GP to see her, to add to my own distress I was told I could not see her. I was a very autonomous little boy for an eight year old so I was to stay in the car or play around within striking distance of the Renault 4 L. Needless to say I brought my sticker album to kill the time.
The following Sunday I did not feel like waiting in the car so I decided I had become an Apache Scout in the US army and that I would find a way for the cavalry to rescue my gran. I had given myself three attempts to break thru the cellulous enemy lines. The first time I did not go past the big white doors with steel protection as it was closed, I then tried to ride my imaginary horse thru a side door but I bumped into a white coat and just managed to escape before he saw me. I recomposed myself and on my third strike I did manage to go thru the cuisine until a kitchen porter asked me with his inquisitive eyes if I wanted a slice of apple tart. Defeated I thought it was time to call for a retreat and I retraced my steps back to the 4L outpost.
The following Sunday I was told I would be allowed to see gran for five minutes only, that was great news I thought and I told myself I would bring my sticker album with me. I had made great progress with the album even though the Little Big Horn two-page scene was giving me a bit of a heartache as I could not manage to complete the scene with the last sticker.I had some from the scene alright but they were duplicates and since nobody I knew was doing West I could not exchange the cards I had twice with anybody. Everybody was doing Football but me.
Gran had lost a lot of weight and more surprisingly had very thin hair, funnily enough I realized I had never seen her without a ''coiffe'' on her head. None the less I loved her toothless smile, her lips were all pink under her white moustache.
She spoke with difficulty but got the strength to enquire about how I was getting on with the album, I told her I was doing well with the Canadian Wars, I had completed the life of the Indians before the White guys landed part but also shared my struggle on completing Colonel Custer's last stand scene. I was excused by a nurse indicating nicely but firmly it was time for me to go, I told gran I would come back with more stickers next time, I waved at her and waited in the hall way.
I did not know it was the last time I was to see her, she lost her battle the following Tuesday.
Sources
Pancakes, Chestnuts, Mushrooms & Colonel Custer
West Panini
Photo Credit
Last Stand by Michael Sohewreck
Produced for beBee Only
""
You have no groups that fit your search