4 years ago · 3 min. reading time · visibility 0 ·
Come Out & Play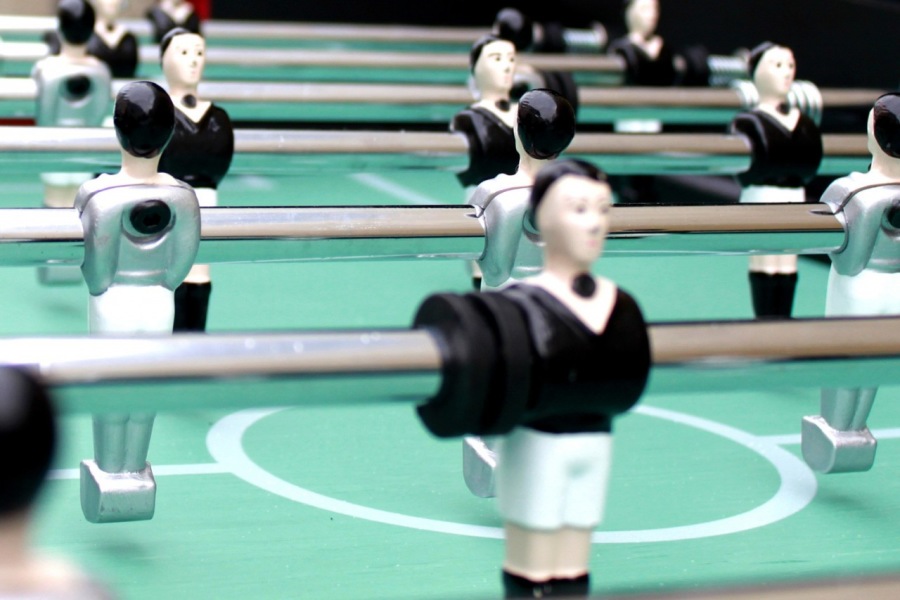 Nearly April already in this year 1987, my Walkman is playing one of my favourite compilation tape, Twisted Sister screams that'' We are not gonna take it'', Motley Crue urges me to 'Shout at the Devil'' while Judas Priest's incantation is to be ''Heading out of the highway''. I am thinking that funnily enough most of us don't really understand our teenage anthems unless we read the lyrics and even.
I must suggest Miss Galloec the English teacher to take a closer look at one of those songs, but I suspect Hard rock may not be her cup of tea. I am on my way to the Café des Sports.
On my way down, I can see my own reflection on the window of a boulangerie, besides my extremely long hair, I am carrying my school bag, a US mini-rucksack that most boys and girls in my college have personalized with patches from their favourite bands. I have added a few antichrist crosses for good measure on top of a few punk buttons.
Most of my friends are in Terminale and are gearing up for the Baccalaureat (leaving certificate), I am the same age, but I am still in 1ere. Unlike my school pals, I was left behind as I am repeating my year. It somewhat makes sense when you think I had spent most of the previous school year in rehab. I could not write let alone walk to school, but I am happy I can still catch up with them during the breaks or canteen lunches.
I meet them mostly after school, fair to say I don't mix much and don't make too many efforts either with my current class mates and I wonder how is it going to be when most of the others will be gone to university.
Every day after a school, we all head to the bar near the bridge, there is always eight or nine of us out of broader group of thirteen or fourteen maybe. Not everybody is the same age some of the oldest guys in the group are in apprenticeship placement and one has even a job, he is miles ahead of us he even owns a car and is in a serious relationship it's Carl's brother.
I like him a lot, he is one of my regular partner at the ''baby foot game'' we all affectionate so much, I am a very efficient goal keeper and right back, but he is a magnificent striker. I am in awe at his technical prowess's, he can do ''gamelles'' and ''returnees'' like nobody else.
We spend so many hours to play table football and so many one franc coins have been swallowed by the device that Henri the bar owner often gives us a free token or two. I think Henri likes us, one must say we spend so many countless hours in his bar, it's not rare that sometimes three of four of us are still there @ 9 PM. I am one of those guys who is never really in hurry. One day Henri asked me if he was seeing me more often than my own family, I told him not to worry....
We are almost all under the legal age for drinking but I think we provide Henri a welcomed distraction from the local barflies, some of us often do our homework or work on more than late to give back essays. We like Henri too and I am not the last to slag him on the song choice he usually picks from his tired jukebox.
We love being there it's timeless, not only we are sheltered from the weather elements, but we somewhat feel in security when we are all in together. The outside does not really matter to us as long as we can kick off an improvised tournament. There aren't' many girls in the group but there is one, Justine, she is the prettiest tom boy I know, and I think all the boys in the group secretly fancy her. I do too but I have my own issues in that domain, elephant man is not a nick name I particularly rate lately.
The only time we desert our table football HQ is when we head early to parties when we all seem to sing life is a party let me be having you, a welcome relief for those of us who would have to make real decisions about their future soon. But for now, the first beer cans and spirit sips alongside a few hidden kisses in a corner would make the night last longer
Henri will see us tomorrow, we will be back the following day, most of us still wearing the chains of incertitude while apprehensively listening to the world telling us to
Come out and play
Sources
People & stuff
Photo credit
Francaise des bars tabac
Produced for beBee only
"
You have no groups that fit your search