4 years ago · 3 min. reading time · visibility 0 ·
Calling All Stations !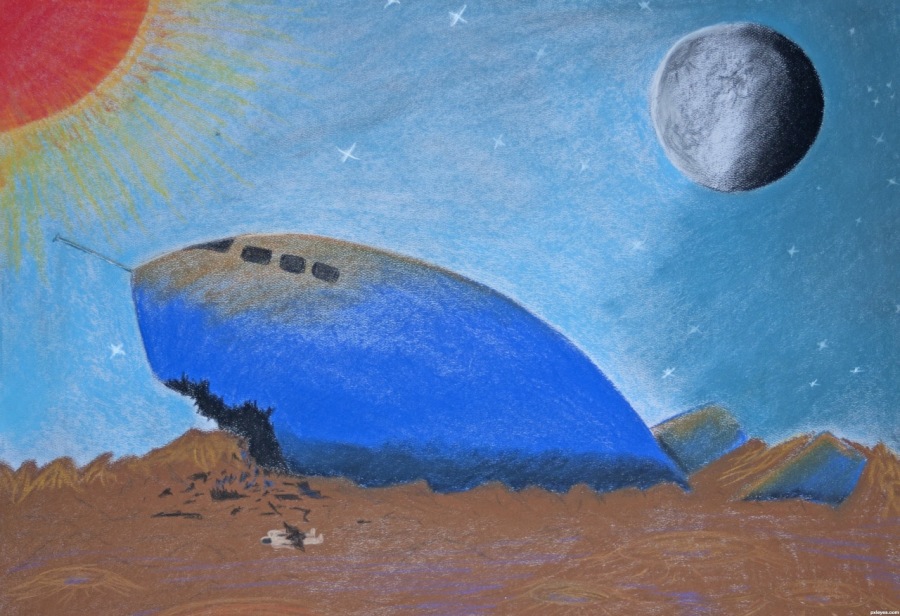 Intro
Urgent! Calling All Stations. This was the last message from Commodore Jackson, an SOS avatar sent in a hit and hope fashion on a fateful Thursday 23rd of May 2297. Aboard Science Super Kargo  SSK '' Crimson'' a scientific mission composed of 8 scientists, 29 Spaceship Crew supplemented by an armed garrison of 35 Space Marines. According to the Galactic Navy Office, records of the events indicate that all contacts were lost shortly after SSK Crimson reached Planet Yaiki. It is assumed that the ship and his entire crew may have crashed on a small neighbouring star close to the planet but no search parties have ever managed to confirm the point of impact.
A Debrief from the Past
90 years on, James Keogh is the Captain of Super Galactic Destroyer SGD ''Orchid'' , the commanding officer is intrigued by the conclusions of the short debrief sent by his Second Lieutenant, Jack Mmba . According to the second in command, the ship they have in front of them is the SKS Crimson, from the shape to the engine identifiers and few other technical parameters there is no doubt that they are perfectly matching the identification profile of the defunct ship.
James is pensively heading starboard on the edge of the command centre of the Orchid. What is this? (he muttered to himself), almost in a way to acknowledge that he is not able to get around the enigma presented to him today. There is no apparent sign of activity aboard, and despite being trained in the best military academy where the most rigorous rationale primed over non proof founded theories, his mind cannot dismiss that he and his crew may be in the presence of a ghost ship.....
Well gentlemen, addressing himself to the command centre staff, I suppose there is only one way to know what we are dealing with, it's to get into whatever this is.

Ready To Get In
Ignoring all protocols and advices from subordinate officers, James decides to lead the investigation squad into the Crimson if that's really the name of this vessel. Quickly put together, 7 individuals have rapidly acquainted themselves to each other thru the quick brief including their roles and responsibilities on approach, two shielded scouts supported by two snipers, one communication aide, Helen the scientific officer and finally James as squad leader will compose the light armed crew.
Without any difficulty the two ships floating side by side get their generic anchors clicked to each other and a door to door device secures the entry channel within a matter of seconds.
Greetings From Harry
Not without any apprehension the 6 men and the female doctor make their first steps into the 110 year old vessel. As soon as they get in, they cannot help but noticing the strong animal smell and almost putrid and feral flagrance taking over their senses. .
Hello my name is Harry, you are very welcome on board, we have been waiting for you. Above them on the high deck, a rat standing up on his two feet reiterates his welcome message, he is wearing a pair of glasses and is surrounded by hundred of his silent brothers.
My name is Harry (did I already say that he seems to think), I am the main brother on board the Crimson even though Joick and his dozen of misfits on the lower deck may claim otherwise.
Unknown Story
Past the first moment of surprise, James continues to listen to Harry while activating a telepathic conversation between the command centre, Helen and himself. Aggregating questions and answers from Harry and mapping them with the Crimson original book of work, James is now able to join some of the mysterious dots of the last but intriguing voyage of the doomed ship.
The Crimson did actually crash on Yaiki but contrary to what was commonly believed it was not his final and tragic landing. While many perished, 7 men survived. Among them Chief Engineer O'Hara who managed with he help of the others to salvage the Crimson's main engine but failed to reactivate the communication system and tracking devices.
The remaining survivors resumed their journey , soon after, they discovered that the 2 surviving rats in the lab a male and a female had experienced some mutations of an unidentified kind allowing them to reproduce at a genetically abnormal pace. The humans on board fell ill almost one after the other and after 3 months in space no humans had survived. With no one impending its trajectory, the Crimson has been drifting ever since.
Rewards & Sacrifice
Equipped with this new piece of information, James still does not compute how come those rats have muted from four legs lab material to a standing up two leg speaking specie and he is most troubled by the fact that they have managed to survive for the most part of 100 years, that's quite a few generations of animals isn't it.
Anticipating his interrogations, Helen sends James a request for a telepathic exchange.
James:  What do you make of all this Helen?
Helen:   Perturbed and troubled like you.
James: OK they speak, I got that, but how come they have managed to survive for so long ?
Helen :  Do you know the book Rewards & Sacrifice from 21st century author Harald Croker
James: Ah yeah, the book about the Colony on the Moon, right ?
Helen:  The very one James, I think a few things make me think about a similar scenario.
James: Hang on Helen, really? Do you think those furry four legs are... cannibals
Outro
Sources
People & stuff
Photo Credit
Lost Ship
Produced for beBee only
Written Material Copyright 2017 - Pascal Derrien-

"
You have no groups that fit your search