4 years ago · 3 min. reading time · visibility ~10 ·
Transit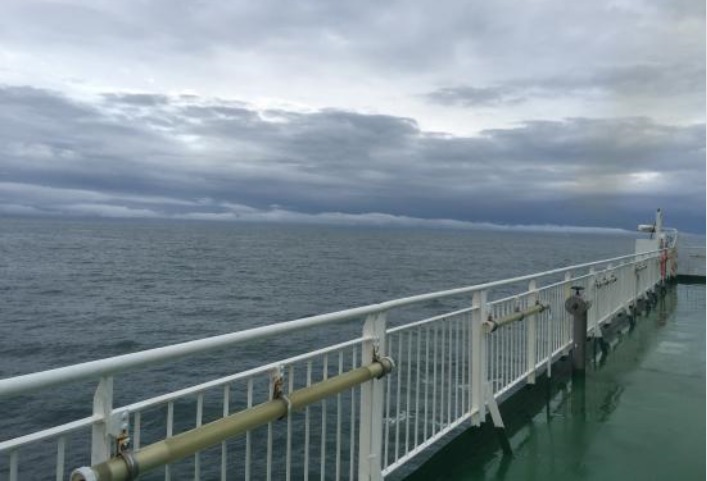 The phone box has a touch of red rust on its top, it's not overly surprising when you think about how battered by the elements this place must be. The weather is not always clement in the parish church of Our Lady of Croaz Batz. Not much sheltering either for the handset hanging in this lonely phone booth in the Roscoff harbour.
This was my last call on French soil, it was a bit awkward to be honest what do you say when all has already been said. I bet my mother was probably wiping her eyes in the background while my dad tried to make good figure and cracked a light joke in a shaky and trembling voice. That's it, I am emigrating as they say, in less than an hour I will be aboard an Irish Ferry for an overnight crossing towards Rosslare.
For now, my 205 Peugeot is sandwiched between two Irish cars waiting patiently to get clearance from the port officials. I have switched off the music, I am in no mood for a mixed tape so I am waiting patiently to get the green light allowing us to load our four wheels' vehicles onto the Irish vessel. I don't remember the name of the boat but the cars will be resting in there like babies in a large steel tummy while the journey will take its first steps into a twenty-three-hour nautical odyssey.
The night cabin is spacious but not exactly what I need to treat my restless adrenalin. Mobile or static an Irish pub is an Irish pub and there is always some craic waiting to be. Quicker than quicker I just take the decision in a jiffy, that's where I am going to kill my anxiety. To whom it may concern you just need to know I ended up navigating thru the long corridors direction the local floating tavern.
I order a pint of black stuff; the barman tells me that's what you need when the sea is a bit rough. The bar is a hive of activity: on my right, there an Irish family who is about to have their evening tea, on my left, two French hippies surrounded by three Irish lads, one of them I think is a driver licensed to pilot a long-distance lorry. I take a few more sips of the stout.
I am thinking that I am moving into a new country four weeks ahead of my wife to be, I am thinking from now on I will have to function with a new language as a modus operandi, I am thinking about my colleagues I left in Sony....
I am thinking about the words of caution that have accompanied my farewell from friends and family, I am thinking about that guy telling me that my name is not Connolly and how can I leave such a beautiful place as Paris. I am not certain because certitude is often eaten by fragility but genuinely I do think I end up asking myself how is it going to be?
I needed some fresh air and I am now on the ship deck, starboard to be precise. Pep talk to the rescue harbouring self-doubt as a positive engine, a force of nature cracking under the gentle pressure of the roaming events can you imagine? Its not the first time that I don't know where I am going to stay but it's a first for me to have a ticket which is only one way.
It was a short night and the sea was not even choppy. I am getting breakfast on board, do my best to make sure I am all set for a great appearance at the customs clearance, you got to look sharp to make a big entrance.
The car is quickly checked and a guy in uniform looked at my passport asking me how long I will stay, I don't answer when he addresses me so he asks if I am OK. I don't want to give him the impression that he needs to trigger an alarm bell so I declare that only time will tell.
I have driven four hundred kilometres from Paris to Roscoff in Brittany yesterday and I need to add seventy-five miles to get to Dublin and reach my final destination today.
As I am getting on the M11, I can spot a derelict castle and its crumbling tower I think I have seen it before. I smile, thinking how bizarre it is to imagine that I left the shores where I was born to find myself shouting
I am on my way home
Sources
People & stuff
Photo Credit
Irish ferries
Produced for beBee Only
"
You have no groups that fit your search