4 years ago · 3 min. reading time · visibility ~10 ·
Hare Guitar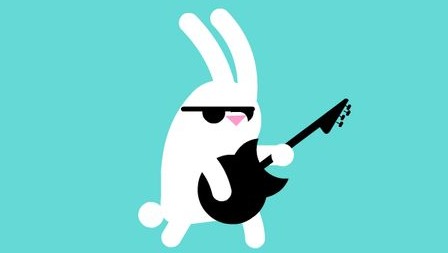 Yo Bunny B. here, I am in the house well actually it's not my house it's Pascal's and he wants to take the mic to talk about music & stuff. Thanks Bunny B. bro or should I call I call you Long Ears it sounds more Cherokee like and it's better for the street cred but well anyway let's move on to the topic of the day carrot boy.
Where was I? Oh, yeah muzak, there is music around me all the time everywhere, in the car, when I run, when I interview bands, go to gigs or review albums, there is a radio in the kitchen, I even include music videos regularly it in my posts too. It's kind of a visceral need for me I suppose it is almost pathologic at this stage.
My tastes in music vary grandly from my roots in Punk hard core to jazz rock, Hip Hop, metal, folk, alternative, pop you name it if its good I like it full stop no semantic. In my heydays of music journalism (sounds super, coolly right?) when I was reviewing albums and covering shows under the name of the lazy anchor journalists who could not be arsed to do their job (but kept the promo LPs') I could be seen the same week at several gigs: Whitney Houston, the following day I would be at Fishbone, or you could find me @Jason & The Scorchers, Keith Jarrett or Robert Cray.
I am no musician but I like my guitar actually I really like bass guitar the most, Stanley Clarke, Stu Hamm, Jaco Pastorius, Cliff Burton or obviously Phi Lynott are doing it for me, but the best bass line eva is probably coming from a band named Fugazi from Washington D.C.
From the mid-eighties to the early nineties I was always on the hunt for music all the time but not having too much money complicated the equation. I would save money on anything I would skip lunches, avoid transport fares (not always legally :-) ), buy second hand clothes, get my hair cut in punk squats or sell my five grand-mothers.
I also loved walking for hours in Paris whether it was to kill my urban spleen or reflect on a tormented transition to adulthood I don't know but my walking errancy was punctuated by fuel stops at a multitude of second hand records shops that were mushrooming all over Paris in those days.
I did not know all of them but I reckon there were probably between 200 and 300 shops in the heydays of vinyl. I would have made friendly with many owners and would have developed a network of music scouts that would keep some records aside for me based on the hints I had given them thru passionate chats and live driven exchanges.
The big advantage with second hand, exchanged or recently sold records was that the cost was not as prohibitive as a brand-new CD or LPs I could get almost 4 and sometimes 5 long playing masterpieces for the price of the costliest recently issued one. I became an expert at navigating thru the sea of covers and labels, I knew the producers, the sound engineers, the releases dates and other sequences of events etc. etc.
The great thing with cheap albums was that I could also take risk and become adventurous in terms of style or musical genre always well worth spending 10 francs who knows you could always bump on a true gem. I would come back home with more than ten records on a weekly basis and I had to become very creative storage wise too to accommodate the accumulation of 33s in my small room.
But the times they are changing, records stores have been shutting down en masse the last five years. That's the new reality for independent owned shops who must adapt or move on, chain record stores have suffered too some closed some tried to reinvent themselves by setting up a café (low margin business) become a device centre rather than a music support provider but whether we like it or not LP's and CDs are no longer a practical way to consume music. There were no record stores in the fifties and there will be no record stores in sight soon.
That said the LP's is fighting tooth and nail and is not prepared to go down without a fight. I have read more than once in the specialized press that for the first-time LP's sales have been neck to neck with other supports and have sometimes outclassed them in 2016 confirming a trend triggered in 2014.
I am obviously overtaken by nostalgia when I drop by my local Tower Records and see all the magnificent LPs on display but I don't see this being more than a hype, a phase at best almost an anomaly in the worst case. This cannot be a sustainable modus operandi. Who can nowadays sit for 45 minutes and be glued almost religiously to a pair of speakers?
The choice is limited too, iconic albums for the most part, for me it is a bit like more of the same ,a rehash, a confusion between rehearsal and repeat. Music at least in my book is about new talents, innovations, disruption. It does not make me happy nor it does make me sad but let's face the music, beyond the recent numbers, it is nothing more than an honourable but ultimate swan song for the gramophone grandfather.
It's a bit like air guitar there is a lot of gesticulation but it ain't the real thing no more. So long my friend and thank you for the music.
Well guys I think I got carried away a bit and I hope it was not too long. Now I just checked behind me and I think Bunny B. has fallen asleep on the couch, he is a funny character I was about to say furry but he is one of the good guys really so how about we dedicate him the following track. It's a good one from Panic at The Disco best days. -Mad As Rabbits-
So, on that note folks, enjoy the video and see you when I see you
Sources
33s, 45s & 78s
Photo Credit
rabbit n roll
Produced for beBee only
"
You have no groups that fit your search