4 years ago · 3 min. reading time · visibility 0 ·
Juke Box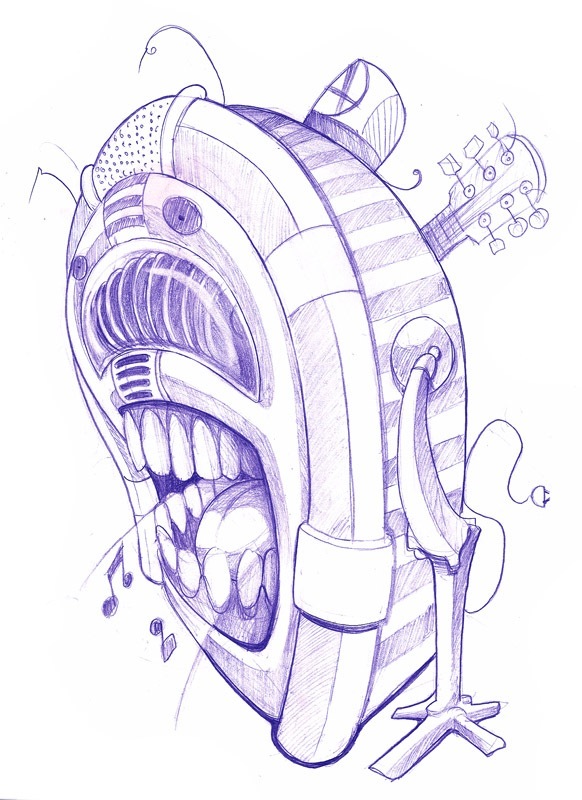 1978 I was not quite ten yet as I am a December baby but a part of me think it was quite a defining moment as far as my musical education is concerned. My parents were not really into culture, books or anything of the sort but somehow, we had a turn table at home with some crappy speakers. Now this was not a state of the art device by any means, it was probably the most basic model of the Phillips range but none the less the sound was decent and you could still play LP's, Eps and other singles that were called ''45 Tours'' in France.
When my parents were working, I was very often left to my own device in whatever apartment we were renting. Hence, I spent many Wednesday afternoons organizing improvised music parties for me and my cat with the red turntable. I would be playing anything I could get my hands on from bag pipe bands to music motion pictures soundtrack and other top 30 singles.
I got pretty curious overtime and started to investigate almost systemically all the B sides of bands such as the Police, the Eagles or Elton John but fair to say I ended up sometimes listening to less convincing tunes from French pop artists too. Occasionally I was lucky enough to discover great music such as the early works from Billy Joel and my all-time favourite Kate Bush. Those two artists have stayed with me forever since and to this day my emotion levels never stay intact when I hear the first notes of Honesty or the Wuthering Heights.
My father did not take his mother's death two years prior very well and developed a coping mechanism that involved heavy drinking under the false pretext of socializing. I became the perfect alibi when thirst and anxiety knocked at his door, it became a habit to take me with him on his liquid expeditions to the local Café Bar. My mum was probably too weak to protest or thought he would behave or reign himself in providing I was with him, que neni :-(.
How sick is this to bring a child on a daily jolly and let him witness intoxicated discussions, watch your own father staring blankly at a glass or other despicable behaviours. Fuck you that's all I have to say for making me go thru this (sorry but I feel better now :-)).
There was so much grenadine a l'eau that I could swallow and bored out of my wits I often wandered towards the juke box sitting in the corner, sometimes the usual suspects would give me a few cents to play a tune I wanted. That's the advantage with barflies you see, they are creatures of habit so you know where and what to expect. What surprised me though was when Axel the owner's 15-year-old son spoke to me once about music and asked me what I was into.
My credibility as music expert was at stake so I regurgitated all the B-sides titles and most obscure names of the bands I could come up with and I think I made up one or two for good measure. Whatever were my answers it seemed to satisfy him as he asked me if I wanted to borrow  his Stained Class album from a band called Judas Priest. He had two of them as his auntie got him one too many. I said yes and thank my new friend profusely.
The following Wednesday afternoon, myself, the cat and the red turntable got introduced to Beyond The Realms of Death a power ballad that hijacked my senses and trashed my emotions up and down. I did not understand or read English at the time but I just connected with the song in a way that troubled me when I finally got to understand the lyrics.
1985 Juke Box was the name a little record shop somewhere in Montparnasse in Paris, they specialized in imports, picture discs and hard to find records. The owner was a music bible and knew everything there was to know about underground music. I came back one day with a record from a band called Corrosion of Conformity, the cover was hideous but the name of the band had a ring to it I must say. Animosity was the title of the short album. 
The back sleeve was full of pictures almost a collage of rehearsals, urban pics and other working class Americana way of life shots. I was fascinated by the sound, the rebellious lyrics and the attitude transpiring from the vinyl itself. I quickly became a regular face of the local punk hard core scene and found myself catapulted into the NY scene a few years later……
I guess sometimes you just got to
FOLLOW THE MUSIC
Sources
1978
Youtube
CBS
Photo Credit
Jukebox by unknown
Produced for beBee only
"
You have no groups that fit your search