2 years ago · 3 min. reading time · visibility ~10 ·
What's Cooking ?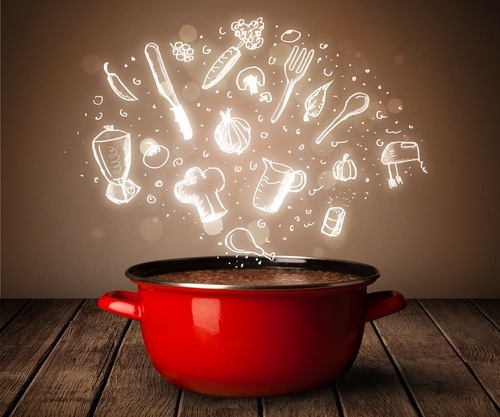 It's Winter at the moment, I know that's not breaking news for most of us on the northern hemisphere. It means colder but also shorter days and longer nights. It also means my son's trainings have migrated a few weeks ago from the grounds nearby to the GAA lights equipped pitches a few kilometers away. When he was smaller I used to stay on the sidelines but that's not required anymore.
Instead I take the opportunity to squeeze a ten kilometre run twice a week from the training grounds and back before we both drive home for a hot shower. I always make sure I include a loop back mid point to the training in order to check that he gets on alright with the various drills or has not taken a knock of some kind. I like Thursdays best, the training starts earlier and there is a different feel to the 6.45 run than the 8.00 o'clock one for some reasons.
That particular day I had picked ''Live At The Nick'' from Lee Bains III & The Glory Fires to accompany me and provide me some motivational energy. Wearing a high visibility running vest I remember very clearly that Whitewash the track #7 was just about to blast all out on my earphones. Was it because of the lyrics or the electrifying version of the tune but  I could not help noticing that I had successively witnessed three or four different scenes from a few softly lighted kitchen windows. 

I quickly smiled at the thought that I was probably only one of a handful of individuals not getting ready for the early ritual dinner. However as I was quietly getting away from the shadows living on the ground level I started to hear a few exchanges which at first I thought could be anything but imaginary....  
Kitchen #1
Menu: Chicken Curry, Brown Rice and Garlic Nan Bread
Brad: Mmm, nice smell honey it must be Thursday, where are the kids?
Gemma: Josh is finishing his homework in his room and Julia is playing on Fortnite
Brad: Bloody PlayStation that said Thursday is the only day I don't have to shout to get them to the table
Brad: Speaking of the devil !! How is my taller than dad son, are you starving buddy?
Josh: I would eat a cow dad especially after today's test, I really hope I will get a good result? 
Kitchen #2
Menu: Coq Au Vin, Roasted Potatoes, Cheese Plate
Gillian: I was not expecting those results Jack, its disappointing for you after all the efforts you have made.
Jack: I know and I don't know how to react ? I think I need to have further tests until I have the all clear
Jack: The thing is ….I am not sure it will happen and I may have to face a new reality
Gillian: Don't think like that chicken its not good for you, I made your favourite dish, you are going to like it !!
Jack: I am sorry Gil I know you made a lot of efforts and that should cheer me up but I am not in a mood. I think I am going to lie down for a snooze
Kitchen #3
Menu: Lamb Tajine, Moroccan Couscous & Fruits 
Soraya: Mum !! Mum !!! Why did not you wake me up I think I fell asleep on the couch 
Mum: I know,  I know you looked so tired after university, Thursday is your big day so I thought I would let you sleep a bit while I prepared food for your father
Mum: Dad will be home in 20  minutes and he asked me if you were staying for dinner with him?
Soraya: oh I don't know mum, I have some project work to catch up on and need to study too
Mum: ah go on your father has not seen you all week ! Would it not be nice to be together the three of us for once?
Soraya: I know Mum but with everything that is going on I am not sure I can afford not to start tonight I am sorry tell him I love him.

The apartment block lights vanished behind me before I entered the darkest part of my itinerary leading me straight back  to the training grounds. Next week I will probably pass by the same blocks at around the same time. I hope Jack will have got better news while I anticipate Soraya will have made herself available for her father. I bet Julia will have reached another level on Fortnite and for Josh who knows? He will probably top the league this time around !!!
Sources
People & stuff 
Photo Credit 
Internet, no author identified
Produced for beBee 
Written Material Copyright 2018 - Pascal Derrien -
You have no groups that fit your search