4 years ago · 2 min. reading time · visibility 0 ·
What If It's Not Viral Doctor?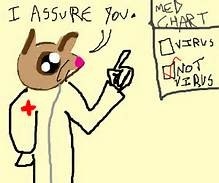 I was kind of thinking the other day that blogging is to writing a bit what hip hop was to the music industry in a way. I don't know if you remember it but the music establishment including the labels business managers did not wear their welcoming hats when it came to the first hip hop artists partly because they did not recognize the artistic value of the genre and most cynically because they could not get around a way to monetize what was vastly an underground movement at the time.
Sampling was considered stealing or plagiarism at best, spoken words were mocked and the overall urban poetry was undermined as ghetto talk but personally I see a lot of commonality and similarities with the bloggers of today whether in terms of intent or vibrancy. The democratic aspect of blogging does not sit well with the self- obsessed and status thirst driven wanna be elites who all want to be recognized as published authors.
I know what I say makes your writing sounds like a processed pizza right but who cares it maybe delicious still. If you have suffered from recognition syndrome it is OK you are not the only ones and clinical testing has confirmed there is an outbreak of ego maniacs on social media who all thrive towards influencing status and recognition, the prognosis is that it won't get any better any time soon.
I said it a few times and others have confirmed I am not styling myself as a writer, I am no writer let alone a story teller maybe I am a blogger at best, I could settle for that because to be honest you and I know it's unlikely I will ever write the sequel of War and Peace. I am in the vignette business where a long form read may not excess 7 minutes (on a good day :-) ).
But this is social media land and the paragraph above is already obsolete, I know I am already a dinosaur with my blogger definition because due to an increased incidence of norovirus infection among its residents nobody really gives a toss about content in social media, similar to the Hip hop underground scene it has already been swallowed by mainstream.
Despite what we would be led to think by community managers the content is not king, shallow is the name of the game. It is about the number of followers, it is about the number of shares, algorithm galore, exposure on every shore, ''virality'' I was about to say virility :-) All the spin doctors have the one and only prescription that will make you a star, you are going to be viral my friend!!!!
What would you do to be a famous for a day, I know a lot of people who throw their old life in a digital ashtray, they would happily jump in any of digital black holes on offer. Get the latest marketing suite to optimize, prioritize, monetize and all that jazz. It is no longer important what you say, do or write it is about the shallow being on show, some are even making a living out of it albeit a very short cycled life span but none the less they do…
Sometimes when people with no obvious talent reach the stardom social media kingdom it tends to bother what I call the super nerds, Steven Pinker in a book that I have not read call it the curse of knowledge. That curse sometimes takes the form of articles, acidic comments and other pseudo demonstrations, not to be confused with constructive criticism the super nerd is on a crusade to prove that he is right and that he…. indirectly should be recognized as the ONE, he has published books you know.
He (very often a man I must say) is doing us a favour by mixing with us the plebe, and he should be given a special status because he hangs with the likes of us. Elitism and populism are two sides of the same coin and thrive towards the same target.
So, doc what if it is not viral then? Listen if you start believing in your own hype you are doomed and it will only be a matter of time before you get booed so don't worry I assure you it won't last and if the symptom persists relax the head and take a
CHILL PILL
Sources
Social media
Photo Credit
 Doc on duty.com
"
You have no groups that fit your search