4 years ago · 3 min. reading time · visibility 0 ·
The Knights of Young Hood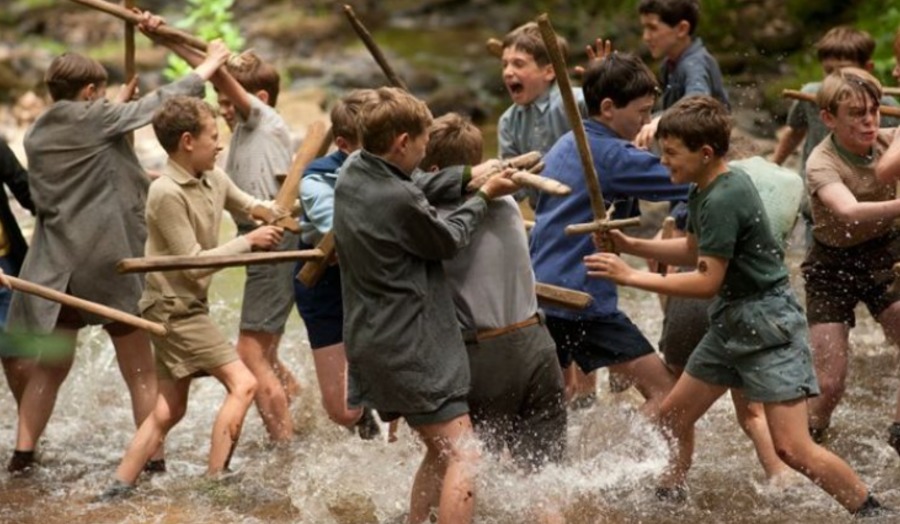 Most of us were boisterous 8-year-olds, some of us were 7 or 6 for the youngest and others 9 or 10. 1976 was the year of the draught and 1977 would be known as the year of the Great Battle of Touleno.
Touleno was based in Lanester, a small city located in Brittany. Touleno, what a funny name, was one of those social moderate rent complex so popular in the 70's. Probably around 200 hundred families mostly coming from a working class background lived there. They had settled besides two parking lots supplemented by a playground located on the East side while the West had been granted a green patch serving as unofficial football pitch.
The local amazon forest was composed of a pine hedge at the corner of the pitch, I loved living there If I choose to ignore that's where my loyal cat decided to leave the week after my father's first suicide attempt.
For some reasons the East kids and West kids did not mix much but because of my nomadic existence I had been probably the only one roaming freely on each side. Was it influenced by the film Ivanhoe being shown on one of the 3 national TV channels the previous Tuesday or was it a pure coincidence, the thing is that all kids suddenly developed a passion for medieval outfits, knights, armours and wooden swords. Within three days, an East and West garrison were formed, flags were created and for those on the West side a fortress was set up inside the pine hedge perimeter.
Around 17 kids formed a light horse regiment in the East Camp while the West troops soon to be called The Knights of Young Hood were composed of 19 juveniles mounted regiment supplemented by 7 pre-schoolers and a disabled captain stationed in our pine hedge citadel. On paper the West was largely superior and despite having friends on both sides I ended up pledging allegiance to the West simply because I was living on that side. With training and pressure mounting on each side, it was only a matter of time before some belliquous elements of the other camp decided it was time to confront us.
The provocation took the form of a projectile aimed at our citadel captain Gregoire. Shock, horror and disdain called for reprisal, we would defend and protect our own considering this a despicable act. Samuel and I acting as scouts immediately got on our imaginary horses to localize the position of the enemy squadron. I had a large wooden blade while Samuel's weapon of choice was arrows, bow and a short wooden knife. We confirmed the position to our commanding officer, Herve, an inspiring 10-year-old.
Based on our information, Herve laid out the following plan for us. We would go home for dinner now and because it is June we agreed to all ask permission to go back out, the key in all this he told us was to skip the ice cream man and his treats because he was adamant the other guys would not…. This would be the very moment choosen for us where we would strike with a formidable force, they would not even have the time to have a fist lick at their frozen treat. We all agreed that this genius outbreak could only lead us to victory.
Everybody got a green light from the adults including the pre-schoolers except one, the latter group would form our rear guard. We would all attack at the same time, I was on the right flank with Samuel and Jacques. Screaming our heart out, our squadron fell on the opposition like fire and thunder. Seating in their sand pit HQ, they were very surprised and shocked by our audacity, but they were also clearly not ready to go down without a fight.
They got their act together quickly, Jacques was hit by a tomato, Herve was injured with an egg. Samuel check your right!!! Samuel has just escaped a projectile and he winked at me, his smile whispering an excited thanks pal I owe you one. They defended their territory tooth and nail, but we were vastly superior to them in every compartment of the battle field.
After 10 minutes of a heated confrontation their CO called it a day, he called his troops to abandon the fight when he saw our rear guard entering the arena. It was a comprehensive victory for the Knights of The Young Hood, we made numerous prisoners and captured 3 bottles of lemonade, a large bag of crisps, we also took their weapons including one broken shield and two broken arrows. Herve was handed over their magnificent red and black flag as a formal act of rendition.
The pain of losing was palpable on most of the faces of our opponents. What a glorious day for the Knights, shortly after our respective commanding officers Herve and Lilian agreed a ceasefire without any conditions for the remainder of the week. For now, and despite our adrenalin pumping up our brain cells it was time to go to bed.
I often think about the Knights of Young Hood, I bet many of them turned out be great human beings, I only heard about Samuel once. In the first year of the nineties while most of the boys of my generation were anxiously trying to understand if we were only a few weeks away from being drafted, my mum found out that Samuel a professional soldier by then, had been awfully wounded in what we called the 1st Gulf War. As for the others, I often wonder
Where are they now?
Sources
People & stuff
Photo Credit
La guerre des boutons
Produced for beBee only
Written Content Copyright 2017 - Pascal Derrien -
"
You have no groups that fit your search