5 years ago · 3 min. reading time · visibility ~10 ·
The Cave In The Basement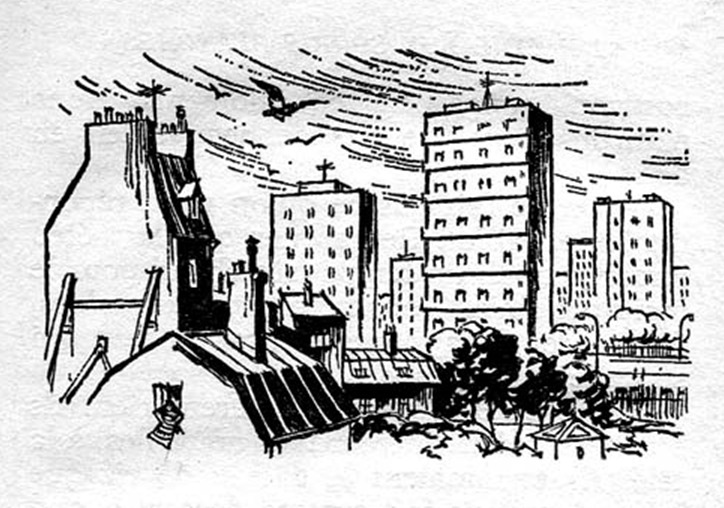 November 1978, somewhere in Brittany it is about 6.30 in the evening, it's dark it's cold and I am sobbing. I have some difficulty to come to terms or comprehend how I have ended up in the basement of the 5 storey building surely a 10-year-old should be watching his favourite TV show in a cosy chair and warm living room. Well not me and that would not be the last time either.
Two weeks prior on a Sunday evening I spent an hour playing soldiers with my dad, we had great fun I had the American GIs and Gurkhas Squads while he graciously took the Japs and German units. It was brilliant fun and I thoroughly enjoyed every single minute of it, it had not happened very often and I did not know that it would probably be the last time I could share such a moment of uncomplicated complicity with my father.
The following day was a big day as he was going back to work after 7 months on medical leave, the GP okayed his request to get back to the work force providing he would avoid stress and not put himself under any type of pressure. His employer agreed to give him only 4 slots a day in a tight geographical area as opposed to 10 for a regular engineer.
After a great first week things started to deteriorate but I did not know that, on a Wednesday which was traditionally an off school day he took me with him on his round of appointments, I was looking forward to it as I would be able to carry stuff and pass the tools and I may even get a glass of juice and a biscuit from the customers. The morning was fine but I got concerned when he swallowed three beers at lunch time followed by a couple of others later on, having not had a drink (I suppose) it went straight to his head and we ended parking the car on the side of a dual carriage way and at my surprise and completely ignoring my presence he felt asleep.
A few moments later probably two hours during which I spent my time starring at the void of my young life he finally woke up and we drove back home, he drove too fast, I did not like it, I was scared and he knew he was not in control, the car skidded twice and the second time the rear of the car hit a field wall on a sharp bend, hardly enough for the car to have its direction altered significantly. He managed to stop, I think the dramatic event had sobered him up and he implored and almost begged me not to mention a word of this to my mother, I reluctantly agreed.
13 days later he had already been put back on medical leave for a couple of days when I got back home from school. Since I had my own set of keys I opened the door and let myself in for an evening snack, I put a vinyl on the turn table, don't remember what it was but it was probably too loud as my father stormed out of his room like a fury and started to roar at me insanities and other insults that I would not even dare trying to reprint here….
Was he intoxicated or was he having a bad hang over I don't know which one is the worst of the two, thing is that I made an attempt to answer or articulate some kind of thought but even before any sound came out of my mouth I found myself thrown out vigorously against the wall while I was shouted to get the hell out of his sight….
I was shaken, upset and shocked. I took my keys and the door was slammed behind me, without really thinking my automatic pilot led me to the basement and I found myself opening the locked storage compartment where our two bikes, a sofa chair and bunch of tools were stored.
It's dark it's cold and I am sobbing my mum won't be back before 9 in the evening from her cleaning job and even my loyal 5-year-old cat had thrown the towel and left the house two weeks' prior…. My mind was in ebullition I had too many conflicting thoughts rushing thru my head, adrenalin is not always a good counsel. I had decided I would stand up firmly from that point on and I even convinced myself that I would kill him the next time. I also told myself that I regretted saving his life 7 months ago, little I knew I would again avoid a fatal outcome on a second suicide attempt 10 months from that day….
I managed to calm myself, grabbed a blanket, took a torch and started reading some of the books that were in a cardboard box, Le Club Des 5 and Davy Crockett were some of my all time favourite and there was a copy of each, I made myself small into the compartment, luckily enough our storage unit was one of the last at the end of the hallway and I would make a point to remain silent and almost invisible in my makeshift grotto when some of the neighbours were picking up stuff or brought bags to the trash bins.
I wrote in another article than sometimes I was not always sure if I could go home despite having a key, my grotto became my secured shelter when I had not the courage to climb the 4 stairs and face whatever unpredictable scenario destiny had in store for me.
Alcohol and its cohort of twisted excesses, hang overs and other derivatives had come back  with a rage in our lives. I did not know how to deal with this, my mother was in denial and I had been very discreet about the fact that there was a
Cave in the Basement
Sources
life and stuff
Drawing
Jacques Fromont
Produced for beBee only
You have no groups that fit your search