3 years ago · 2 min. reading time · visibility 0 ·
Rock'n'Roll Kid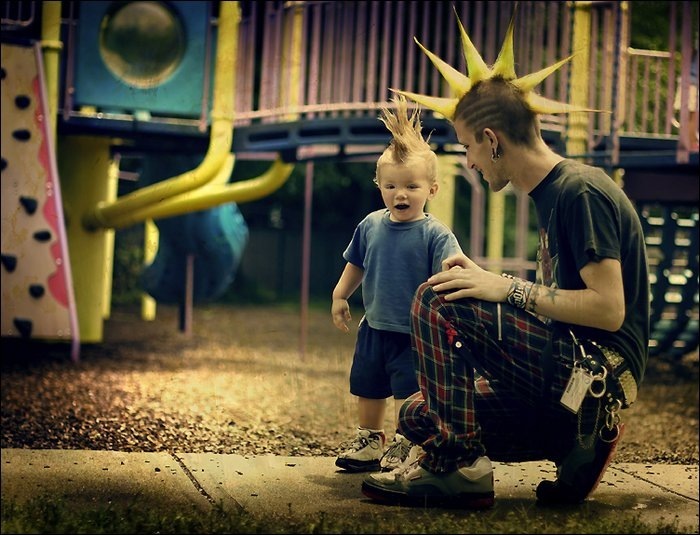 I have never really been ambitious. What I mean by this is that I don't really give much time or value that is to goals obsession. That said I have achieved quite a lot (at least by my standards and) maybe more than most but I have never really let those milestones take over my life to a point of fixation.
I don't get stressed with materialistic items, you see I go with the flow and it sometimes drives people nuts. I was told numerous times that I come across as somewhat detached that I don't relate to my surroundings or minor things. It's not indifference I can tell you that, I just don't have an unhealthy and compulsive preoccupation with success, future or money.
When I was a teenager I was content enough with having a roof over my head, some food on the table and enough money to get by for the week. I did not go very far at school but as long as I could buy a bit of music, pay my monthly Parisian metro pass and attend cheap rock or punk gigs I was happy as Larry.
Since then, I have travelled a lot and to many places (sometimes too many too). I have worked for prestigious companies, got work titles longer than a Ph.d thesis, I have indulged in earning big bonuses and managed too many people and their egos that I care to remember. I was awarded more stock options than I thought I would ever have and have subsequently sold and got rid of all of them. It was fun at times, exciting, thrilling stimulating and even exhilarating but in the end this was quite superficial. The illusory aspect of those years did not mask the electrifying need I had to find something a bit more authentic than just showing up in corporations selling hugs and kisses one day and stabbing you in the back the following one. I left.....
I like start ups, social enterprising, charity work, volunteering and writing. Most of that stuff is not economically viable but like my running and cycling it makes me content. I am lucky enough that the last few years as a family unit we have made sure that without compromising ourselves we  have secured a roof over our heads, that we have enough food on the table and enough money to get by.
I don't want and don't need a bigger house or a more powerful car. I don't need to be part of the cast of characters playing in the shiny show either. With so many nobodies having in mind to become the icons of the new day, no thanks I will pass if that's alright, that's all I have to say. I am going to leave it to others who adore the burn out, I think there is a long queue enough at the self obsessed individuals check out.
In a few years when I will be getting older and not too far from the eve of my existence I hope I will still have a roof over my head, some food and enough money to get by while my kids would check on me and regularly drop by.
With any luck I will still be able to buy a bit of music and attend a few gigs, frankly it's funny almost to think that after all those years it's only simple pleasures in life that count.
With age comes wisdom....surely I already knew that a long time ago.   
Sources
people & stuff
Photo Credit
Punk kids 08
Produced for beBee 
Written Material Copyright 2018 - Pascal Derrien -
You have no groups that fit your search