3 years ago · 3 min. reading time · visibility 0 ·
Psstt...Or The Ballad Of Billy & The Kid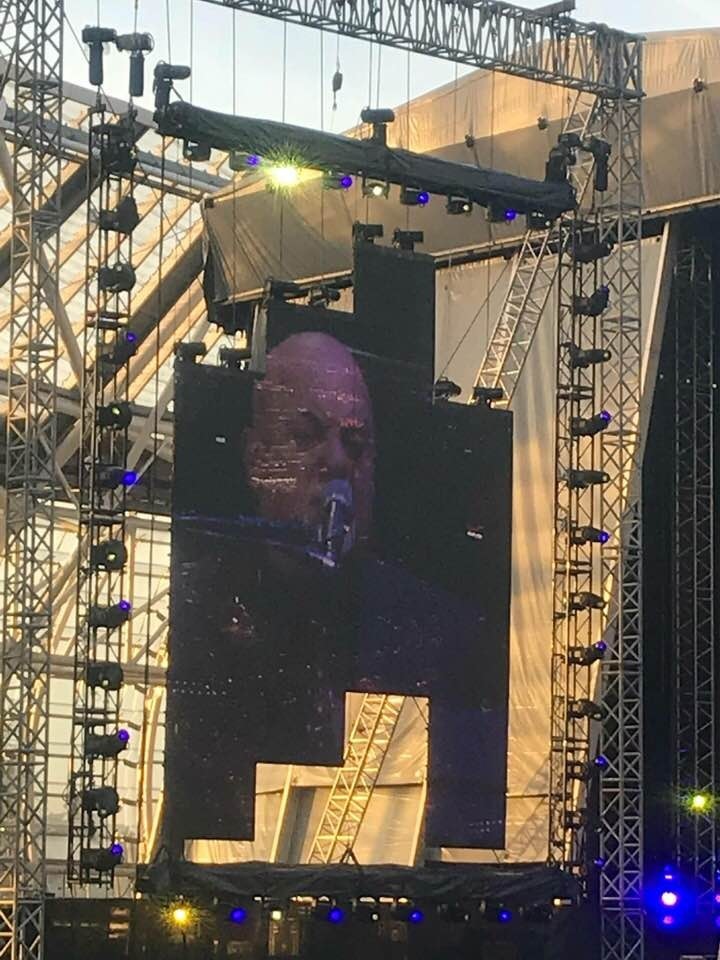 Billy Joel's first album with Columbia was Piano Man, released in 1973, I was four years old maybe or something like that. My first memory  of him though would come much later with the release of the massive hit ''Honesty'' that inundated the radio waves worldwide. I remember being completely hooked on the song every time the car radio was blasting the tune in the old Renault 4L that my dad was driving. I did not understand the lyrics at the time but I could already sense and perceive the emotional song writing ability that Joel would perfect later with other songs.
June 2018: Dublin 19.00. I am about to watch one of my favourite artist on stage. Only three European dates on this tour and Dublin is one of them. The last time I saw Billy Joel on stage was in Paris, I was probably no more than 20 years old. I remember clearly that my punk, hard rocking friends and other metal heads could not get over the fact that I was into ''mainstream'' music too. 

They did not understand that Joel was more than just a piano man, to me he was and is one of the most brilliant lyricist I have come across. He is a paper tiger at large. The poignant power of '' Good Night Saigon'' or the exciting melody of ''A Matter of Trust'' always throw my spine into a shivering mode. Forty years on and its not up for debate, the prophetic element of his texts is still acutely and scarily relevant !!!  
June 2018 : Dublin 22.45. What a show that was, what a voice he has and what an extraordinary back up band he is supported with !!! The show is over and myself and my other-half are directing ourselves thru the corridors towards the exit. At that point I mention to her that I need to make a trip to the gents.
As soon as I step into the male toilet area I know there is something eerily different. For starter it is really quiet compared to the noise level emanating from the stadium show goers outside the sheltered concrete box. I also realize relatively quickly that I am on my own but decides not to think about it any further than this being just a pure coincidence. 

Head down I begin to wash my hands at the sink when I start to notice and hear a voice calling me by my first name.I bring my head up and he is there in the mirror..... looking at me with a happy and engaging smile. 

How did you find the show ? Billy Joel asks me with no hesitation. euh ... brilliant I finally manage to answer, it is obvious I do not quite understand what is going on.

Don't be afraid man, you are not the first one who is surprised by my after show appearance in the male toilets and for the record I only do male toilets right he added jokingly. So tell me what did you like and what did you miss?

Well I suppose I really loved the fact that you played ''Pressure'' but I missed ''Good Night Saigon'' and few others.
Yeah fair point, I am trying to have a more poppy angle on this tour, did you like the fact that I proposed a choice between two songs on several occasions?

Oh yeah, Billy !! can I call you Billy? That was good and can I say that you have a cracking sense of humour too and gosh your musicians are brilliant !! says I unconvinced I am making a huge pile of sense in front of one my idols.

Can I ask you a question Billy? Sure fire away young man!!! Why don't you record anymore? The 64 million dollar question, I have probably answered that one a few times my friend. Basically I think I have said all I had to say man and adding another record at this stage would be more a commercial pursuit than artistry but who knows.... 

While I try to come up with a more sensible and less conventional question, Billy points out his finger towards the door indicating that somebody is probably about to enter in the room. In fact it turns out that there is actually not a soul in sight except me and Billy but when I turn back towards the mirror... I am alone... he is gone.

My other half is waiting outside and greets me with a ''what the heck were you doing in there, it took you ages'' comment. At that stage I think it is best to compose myself and avoid unnecessary questions about my sanity by pretending that it was actually pretty busy in the men rest rooms or was it?   
Sources
People & Stuff and Billy
Photo Credit
Pascal Derrien Dublin Aviva Stadium
Produced for beBee
Written Material Copyright 2018 - Pascal Derrien-
You have no groups that fit your search