4 years ago · 3 min. reading time · visibility 0 ·
People & Stuff : A Late Introduction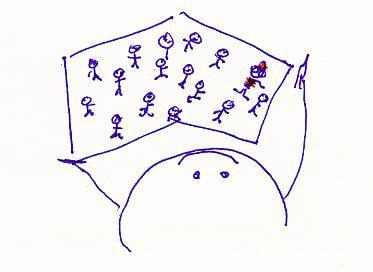 If you happen to stumble upon my profile on beBee you may read than I am fascinated by people and their stories, you may have also but most probably not noticed that I often pre-empt my shares with a people & stuff tag line as a form of introduction. Speaking of which part of me was thinking that maybe I should provide a long overdue introduction about myself to help joining the disjointed dots of my personality.
I have been described as a complex character by some or a straight down to earth individual by others, for some I come across as a deep prince of darkness while others may refer to me as a witty and light hearted individual. Well it is what it is I suppose, it does not really matter if I don't fit in a box, nobody really buy a pair of shoes to keep the box aren't they? You don't need to walk in my shoes either the only thing you need to know is that I am just a regular guy who does not take things too seriously.
My nickname is Kat because believe it or not I can apparently whisper to cats, add to this that I am also colour blind like my quadruped brothers you may end up jumping to the conclusion as some did by saying I also have had 9 lives.
Now you will probably never see me talking or writing about them but I have two beautiful Franco Irish kids, an 8-year-old daughter going on 14 and her eldest brother who is an accomplished sportsman.
The family close knit is completed by Mum who is Irish and has the delicate task to put up with me and my antics.
Listen, I am not going to write a novel about my life but maybe there are a few milestones that are worth taking into consideration.
The Storm before the Calm
I was born in Paris and 3 weeks later was sucking my thumb in Manheim in Germany, I lived a very nomadic existence the first three years of my life insofar as a caravan was called home, apparently doctors would not come to us as we were gypsies. We were not but it does not matter, it is the perception that counts. My dad was a squad engineering leader for Gaz De France who was assigned to short missions with his small team.
I got to deal with quite a lot of shit between age 5 to 17 so in order to spare the tears I am going to make it quick: lost my sister age 5, suicides attempts x 2 (not me), alcohol, verbal abuse, violence, 3x schools per year on average, psychiatric hospitals (don't worry not for me), car crash and near death experience (that one was mine) @ nearly 17, Punk Hard Core as a saviour, managed bands, wrote for underground fanzines etc. etc. etc. etc.….. the outcome is that I have developed a very thick skin and that I adapt to change in a matter of minutes. The flip side is that I hate suffocating structures.
My First Language is Not my First Language
As a college drop-out I have travelled a lot starting just under 18-year-old and have probably gone to more than 70 countries at this stage, I went to some too many times like Germany I lost count there more than 70 times maybe, Russia is there too with only two visits and it is the second time that counts as the one too many :-). I have never managed to go to Australia the only continent where I have not set a foot on. I met a beautiful Irish lady in Paris more than 20 years ago, and have found myself packing my belongings on a ferry to a foreign country called Ireland. I am now functioning for the most part in a language that I was not educated with. Funny life…. go figure
Nowadays I work for a multinational where I am often referred to as unorthodox, I sit on 3 boards of organizations who are trying to make the world a tad better, I run a lot but would love to cycle more I am actually not very good at either of them but I like it I even write about it :-).
Recently I have also been back to music and started reviewing albums and gigs for an online rock mag but more importantly I spend a lot of quality time with my kids and enjoy life in general.
The last bit I may add is that sometimes you don't really understand what it is to be a foreigner until you become one. The last few years I have become an integration passionaria promoting migration, diasporas economic footprint, I gave public talks and have worked with various government officials. A ''diasporian'' journey in itself
The Upstairs & Downstairs Books and the Plan of no Plans
I am no writer in the classic sense but I like to read two books at any point in time, to do that I have developed the funny habit to have an upstairs book and a downstairs book (not the toilet :-) ). To give you a sense of what I may read I would say that right now the upstairs book is For Whom the Bell Tolls from Hemingway which will be followed by The Monuments a book by Peter Cossins on cycling classics in Europe.
The downstairs book is currently Born to Run by Springsteen which was preceded by the Lost Olympian of The Somme by Fredrick Kelly who was an Olympic gold-medal rower, a skilled pianist and an aspiring composer, who fought at Gallipoli and The Somme. It will be followed by Riding Shotgun from Don Kerr.
I have no plans for 2017 or major goals I don't do that type of stuff, I go with the flow and it drives the people around me quite nuts but I know I have one or two professional's decisions to make early in the year.
I will stop now and leave you with some music from Anathema which somewhat may sum up my persona better than my broken prose as I tend to recognize the emotions in the track as being very close to mine.
It would also be rude if I was not to add that it is very
NICE TO MEET YOU
Photo Credit
Book of life by JayJay
Produced for beBee Only
"
You have no groups that fit your search