5 years ago · 3 min. reading time · visibility 0 ·
One Billion Disability Stories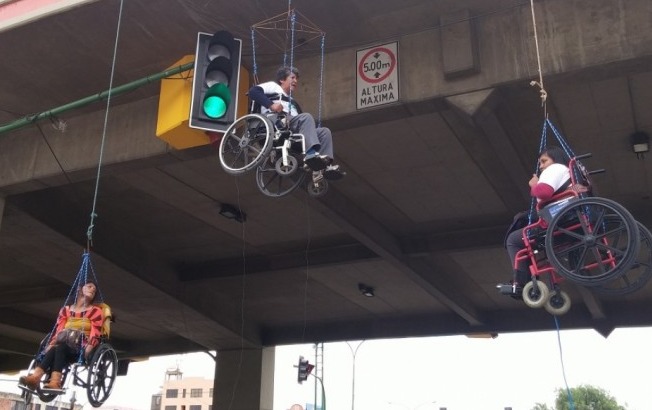 A damning report from the World Health Organization (WHO) ''shows more than 1 billion people with disabilities face substantial barriers in their daily lives''. Two things spring to mind when hearing this: first I am shocked to find out that this was the first comprehensive and global report on disabilities in 40 years!!! Second is the number quoted: ONE billion, I repeat ONE billion.
How much is one BILLION? Apparently the British say it's one thousand million, anyway it does not really matter especially for somebody like me who cannot count any further than 3, but what I know now is that besides nine zeroes after the one (1,000,000,000), that's a lot of people and since people are not statistics that's a lot of stories too...
James
I meet James at a school cross country race in 2015, my son was running that day and I came to support him. I shook hand with James when he crossed the finish line after a 100 metres sprint, he had a big smile on his face when I congratulated him on his race finish.
The same year James was awarded the prestigious Sport Person of The Year Award in his age category at his local school.
James Casserly that's his name is a wonderful ten year old boy. He was diagnosed with Cerebral Palsy when he was two which affects his core and lower limbs mostly. In turn this leads him to have difficulty with independent walking and balance. But James is a fighter and likes a challenge, he came up with an idea of running a race, which for some reasons escalated to the SSE Airtricity Dublin Marathon which is 26.2miles !!!.
When asked what charity James would like to do it for, without a thought he declared Barretstown an Irish Charity who gives kids respite and fun. Availing of their services himself James know how really special it is to all children and he would like others to share the smiles and fun of his time spent there.
Not one to miss an opportunity, James set an ambitious goal for fund raising but more than the money James is set to become the youngest person to ever complete the Dublin marathon in a wheelchair
As often when you challenge the status quo you come across nay sayers, detractors and other disbelievers, but you know what? James is well able for them.
Time in Suspension
Who is trip trapping under my bridge, that's probably the reflection some Bolivian officials had when they realized a bunch of disabled activists had suspended themselves for several hours @ Viaduct Bridge on Highway White Galindo Cochabamba.
This was not only a spectacular but impressive way to pressure the Government no doubt about that but hang on it did not stop there. Adding to the prowess and striking dare they further announced and confirmed a caravan wheelchair bound for the city of La Paz.
500 hundred Bolivianos bonus per month that's what they were asking for, not surprising when the WHO reckons ''In low-income countries people with disabilities are 50% more likely to experience catastrophic health expenditure than non-disabled people''
You See Me No You Don't
Beno Zephine is her name and she is Indian, I read recently that Beno had become the first Indian Foreign Service (IFS) officer with 100% visual disability. She is a wicked lady who is not ready to settle for pre-conceived ideas, for example she apparently ''tried to get rid of the dependence on Braille books by switching to Job Access With Speech (JAWS).''
Did you know that there is about 285 million people affected by vision deficiency or considered as visually impaired? This what I learned when I spoke with my friend Sinead Kane the Irish Elite Blind Runner. On the day of that conversation Sinead was also very quick to remind me '' I can choose to be blind or I can choose to believe anything is possible''
Welcoming the report, renowned theoretical physicist Professor Stephen Hawking said, "We have a moral duty to remove the barriers to participation for people with disabilities, and to invest sufficient funding and expertise to unlock their vast potential… It is my hope this century will mark a turning point for inclusion of people with disabilities in the lives of their societies."
You are bound to know somebody with disability, someone the other day told me that any of us are one accident away from disability. That's true but we should not be playing on fears, how about we start the conversation by replacing the notion of invisibility with
INVINCIBILITY
Sources
WHO report
Team James
Photo Credit
Bolivian Press/ La Paz
You have no groups that fit your search