4 years ago · 3 min. reading time · visibility 0 ·
Let's Finish For John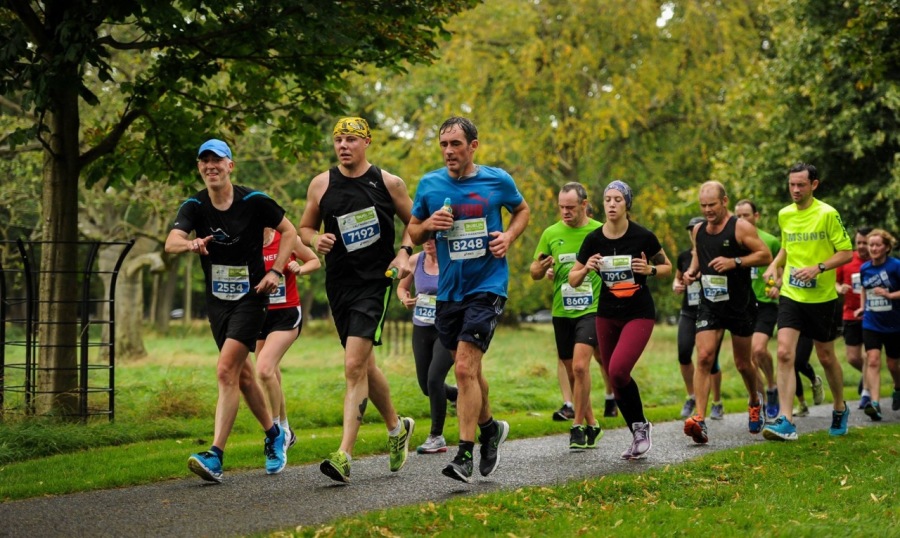 End of September means SSE Airtricity Dublin Half Marathon for me and 2016 is no exception. It was my third participation and I was to run it with two galloping friends Cyril and Patrick but before we go any further I think it is important I touch on a tragic event that occurred the previous year.
If you are part of the running community in Ireland, you may know this obviously but if you are not, allow me to shed some light on sad and tragic event that took place at the 2015 edition. Like many I was less than 1 km away from the finish line when I heard ambulance sirens behind me, all I could see was some race marshals frantically trying to direct the vehicle towards a point in front of me.
A mere two to three minutes later I passed by the ambulance and could not help but stare at a hive of activity trying to resuscitate a runner. I could not see his face but only his legs. I did not process the information quickly and found myself crossing the line under a round of applause and other bewildering acclamations from the crowd. I finished well but I could not care less somebody did not and when I found out he had not made it I started to think about the futility of road running and races. Two worlds colliding I suppose?
Sept 2016, after chatting with some French runners before the start I am moving to the start line with Cyril (another French born Irish resident :-)) and Patrick a fellow Giraffe runner. We ran together for a while and then I lost Patrick who was behind and then Cyril was ahead and at about km 12 we were all back together when Cyril appeared to drop off, we stabilized the pace with Patrick and when we had just entered Farmleigh demesne  a cop and possibly a paramedic on motorbikes overtook us at great speed, at that point Patrick and I both hoped this was for a minor incident.
Leaving Farmleigh Estate we skidded downhill for a while towards Chapelizod and just before the junction where you can turn right for The Anglers Pub we spotted an ambulance on the opposite side surrounded by numerous yellow jackets. Frankly it did not look good (I will find out later it was a cardiac arrest but he made it), we kept running and found ourselves re-entering into Phoenix park, not much was said between Patrick and myself actually the whole pack we were part of became very silent.
I think we were all on a reflective mood as the only sound I could hear was the sound of runners hammering the tarmac. A few kilometres later there is another guy on the side attended by a St John volunteer and I think most of us sank in deeper thoughts about our own vulnerability.
We were not too far from home when Patrick asked me if we should press on to get a sub 1.50 I answered that my heart was not really into this and I must say I am glad he stayed with me. I was a bit apprehensive to reach the point where John # 2158 collapsed last year, every time I have gone thru the park since that fatal day whether it is to visit my mother in law who lives in Castleknock or bring the kids to the park I cannot help but thinking about John a guy I never met.
I told Patrick that I would slow down at the point where John collapsed as a mark of respect, I did not see any of the Finish for John team runners during the day but there was a good group standing where I think he had passed away, I am not sure how or why I came up with this but I instinctively made a military salute in John's memory, it seemed it was the only practical gesture I could think of.
Maybe it was his family, maybe it was some friends but I got a round of applause for my gesture and I was an emotional wreck when I crossed the line with Patrick 700 meters later. Who knew that 700 meters is the difference between life and death.
I told Patrick I would be heading to the baggage area where I had let a change of clothes with the Scouts. Was it their system, was it the organization or was it the emotions running high after the finish line the thing is that the queue for the bags and the time it took for the scouts to identify them did not sit well with many. It led to some impatience first from some runners, some acidic comments from others took over which ultimately saw the rest of the herd verbally abusing the young kids and the scout leaders.
I must say being pressed myself against the metallic barrier I was taken aback by the vitriolic behaviour from club runners, mature adults and how much of a paradoxe bizarre owners of Give Respect Get Respect slogans flocked on their running T Shirts that day were the most vocal.
I know we were getting cold and it was taking more time that it should have but I am ashamed by the running community on that day, despicable behaviours from most at that baggage point. I thought the values of running were solidarity, respect, helping each other etc. blah blah blah … for god's sake for the day that was in could you not wait a little bit longer!!!!
Running is beautiful and rewarding almost a mystical experience for many but I also think some of us need to
WALK THE TALK
Sources
SSE Half Marathon Sept 2016
Photo credit
Tomas Grealy Photos
Originally produced for the Smart Runner Mag

"
You have no groups that fit your search