4 years ago · 4 min. reading time · visibility 0 ·
I Was A Teenage Anarchist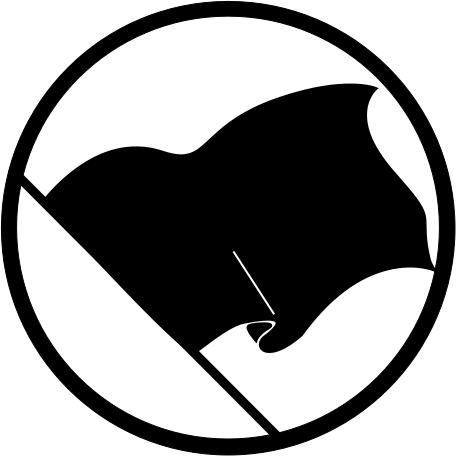 The bridge from 1989 to 1990 was significant for me, I had left university for good in June of that year, well I suppose some may say university had left me long before the official date so let's consider that the break up was amicable. I worked hard that summer at a local supermarket chain on a 6 out of 7-day streak until the end of September, it's at that point that I decided I needed headspace and took two short weeks of reflection before jumping into adulthood.
It was the recession in France at that time and for as long as I could remember the political debate had been dominated by the alarming level of unemployment, factories closures and other economic mishaps. Realistically I had no competitive advantage over Ph.D. students who ended up themselves working as cash desk employee in banks if lucky, the environment was bleak, somewhat the usual and predictable story of a system producing too much manpower but only providing scarcely albeit many of us would not have any bums on seats. No comfy cushions for us so it meant we would more than likely work our arse off the most part of our lives.
People were fighting to get entry level jobs but my impeccable track record with the temp agency (hey, what a rebel :-) ) got me a job as a warehouse operative with a Sony logistical hub who needed extra staff because of the holiday season. So, I found myself unloading containers at four o'clock in the morning by minus 2 degrees Celsius. Everybody was older than me, I was the life rookie and part of a team of four, Mamadou the Nigerian, Mo the Algerian team leader and Jack an American guy on a world tour who was reloading his finances before his next stop over. Jack and I were the only temps, we had good time speaking English and exchanging jokes and small talk with the other two.
When I was not busy playing the adult in pitch dark mornings with my new-found colleagues I came to realize I was really missing some part of the campus life, Tolbiac a branch of the Sorbonne was also known as the ''Red Campus'' and its strong left wing influences were well anchored in the pysche of its students. The main building was sitting in the middle of the Chinese quarter in the 13th arrondissement and I really missed the stimulating semantic debates and other protest plans. I was not part of any unions but I was deeply involved in music circles that were heavily politicised especially the punk hardcore scene that I was covering for various fanzines. I was reading a lot about the International Brigades in 1936 Spain at that time so it is almost naturally that I ended up joining the Anarchist Federation on December 1st.
Tuesday evening was the day for the weekly meet up consisting in reviewing minutes from the previous meeting and planning ahead the various activities of the section. The Fresnes Antony section was ten minutes from where I lived, it was a nice, large room which gave light some ample space when the steel shutters were up. Adjacent to the main room was a utility room with toilets and a fridge, the furniture was composed of shelves sheltering archives, books and other pamphlets. A large table with eight chairs was completing the furniture ensemble while the walls were inundated with posters and slogans of past actions.
There were only three members in this section and I was to become the fourth one. Etienne was the eldest of the group he looked like a Bakunin version of Santa Claus with his thin framed glasses and grey beard, he was probably around sixty-year-old I understood he was an History professor at a university close by, it was obvious he was the morale authority of the group and a memory encyclopaedia about anything related to the cause, Jacques was probably forty-five, he worked as a postman he was gregarious and generous. Roland a mechanic teacher in his thirties in a LEP (Professional College) was clearly self-centred and tense, the introduction of a foreign body in the relation triumviri did not please him the least.
The three of them had different views on self-governed bodies, individualism or collectivism while they had a common interest in non-hierarchal institutions. This section was a ''publishing'' unit acting as a creative engine for posters and slogans designs mainly. At first I thought this was very cool but I discovered rapidly that it consisted mainly in adapting templates and framework used prior, there was a clear and defined activity framework too, Tuesdays were the meet up, every second Saturday of the month was flyer distribution at the local market, third Tuesday was topics and priorities from the HQ and local landing, fourth Tuesday of the month was all up review and debate on a topic of your choice….if vetted by the others so much for free thinking hey !! First Tuesday was field trip!!!!
I loved the field trip Tuesdays. Our bat mobile was a decommissioned yellow '' camionette de la Poste'' that Jacques had purchased in the past, with that our primary tasks was to patrol the '' Commune'' and its boundaries to strip down National Front Posters and other right wing election placards. It was very quickly clear to me that I was the most street wise of the gang if I judge by the jumpiness that Jacques and Roland were experiencing each time we crossed a police patrol… now we were harmless and I would have bet a Luigi Galleani framed speech that the cops deliberately turned a blind eye on our going-ons as they had probably bigger fish to catch than a bunch of idealists armed with a bucket of glue and a brush.
Our field trips were uneventful until one evening working under a bridge on the opposite side of us we came face to face with a small National Front unit composed of two conventional guys accompanied by two fierce looking skinheads probably acting as their safety blanket. Jacques got very agitated, Etienne was speechless and Roland froze with terror while I ended up emptying my bucket of glue on two of the guys and hammered one of the skinhead with my sweeper who got broken in the process. We rushed back to the car and Etienne made the executive decision to go back to our section. High on adrenalin and various emotions we spent a few hours reliving and debriefing the incident. This heroic episode would be quoted and spoken about numerous times among us the following weeks but for now we decided to all go to bed, the revolution would wait……
It started with me only attending the weekly get together every two Tuesdays before it became one every three until one day I realized I had not gone for more than four weeks. My interest in the nine to five revolution was slowly but surely fading away and after almost two years I left…. They became a trio again.
More than twenty-seven years after what is left of my anarchist youth. I am not so sure and I would not pretend that the legacy is life changing, yet despite working for a multinational and be well versed in the area of business in general I still don't follow the party line.
At the risk of appearing contrary I keep voicing my opinion, sometimes I come across as opinionated to the clear majority who blindly subscribe to the status quo but when you see crass injustice and other flagrant societal misfortunes.
You got to keep saying
NO PASARAN
Sources
FA
Youth
I was a teenage anarchist by Against Me 
Photo Credit
Anonymous Black Flag
"
You have no groups that fit your search