4 years ago · 2 min. reading time · visibility 0 ·
Fat Chicken Or Fact Checking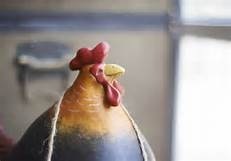 At a first glance the above look like a fat chicken well maybe it is maybe it's not, personally I would like to think it's a radish with some chocolate fondant on top or maybe it's a wooden carved piece that has gone haywire I don't know. Maybe you know, there seem to be so many people who seem to know everything there is to know about everything nowadays.
You know what? I am going to put you out of your misery I think it is a radish who is doing some cross dressing in his spare time as a chicken; fact. It does not make the vegetable a transgender (or is it a GMO) because cross dressing is not mandatorily associated with transgender; fact.
While I am at it, let's get something out of the way too , gender orientation has nothing to do with sexual orientation, also transgender individuals are not weird nor have a twisted mind, they are not deviant, abnormal, aberrant, anomalous, odd, weird, eccentric the list could be very long indeed….. but they are victims of assault, bias and discrimination, fact.
You may not know too much about this and honestly it was also my case too but accepting to be a transgender is far from being a question of a choice as so many patronizing and well intentioned members of the public would commonly like to think. This would be denying the anguish, pain, suffering, misery or even torment that victims of the transgender dysphoria have to deal with on a daily basis and some from a very young age.
From what I understand Gender Dysphoria" is the term medical experts use to describe the distress a person may feel when their gender identity does not match the gender they were assigned at birth''.
I am no expert but I have read that various treatments if that's the right term or should I say options are available to manage ''this discontent including mental health services, hormonal treatments, and— in some cases— surgery''
In the US alone around one million individuals would consider themselves as transgender whether they have followed a gender reassignment surgery or not. 41 % of a survey conducted among the transgender community admitted they ''had attempted, at some point, to take their own lives.''
It's a complex if not complicated topic and I am not sure I fully grasp the various layers and kaleidoscopic aspect of the transgender discussion but in the last 5 years I have meet, worked or engaged with two transgender individuals one has fully transitioned from man to woman while the other has not and does not feel the need to.
What both of them have in common is a larger than life appetite for living their existence to the full, a sensitivity and receptivity of the highest worth, they are indeed distinctive individuals with a specific intricacy but more than that they are people who look forward to seeing next day's sunrise and hope it will bring the best out of people.
cock a doodle doo
Photo Credit
Fat chicken
Sources
Observation
101 myths about transgender dysphoria
Produced for beBee Only
"
You have no groups that fit your search