4 years ago · 3 min. reading time · visibility 0 ·
Anger: Hostility Towards The Opposition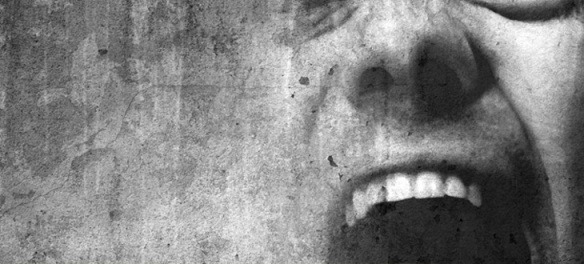 ''a strong feeling of displeasure and belligerence aroused by a wrong''
One of those dark November evenings when the dinner turned out to be an unusual mediocre display of my mum's culinary skills, anger invited itself to our moderate rent apartment on the 3rd floor of a small building complex in the south suburb of Paris.
In the minuscule kitchen , the small table which could barely accommodate more than us three became the centre stage of a play involving fury, inadequacy and its best friend voracity.
The comment made by a man I used to called Daddy had been very unnecessary. A quick shot aimed at hurting, you know not one of those which is not life threatening but the other type the cheap one which is soul destroying. He thought it was entertaining but I did not feel like laughing. A heavy silence dominated the tangible tension, nobody was talking. I would not give him the pleasure to see me visibly angry, I would not elevate my voice and I would only award him with anger in its most economical display.
Revulsion, disgust and nausea came crashing at high speed against the partitions of my brain but I would show nothing, just contain. I levelled up my gaze and stared at him directly, I was not speaking my eyes instead were doing the talking.
''You threw my childhood to the wolves for the last 10 years but I got news for you, from today on it's over; father. Don't come near me or my mummy and ask me dear son where art thou because from now on I only have one answer for you, screw you!!!''
The morning after, I guess the message had somewhat gone thru. He said hi in front of his breakie, his six foot three son answered hello laconically. On that day I started to drift away, my open wounds would find refuge in Punk Hardcore I felt comfortable with the outcasts and other urban misfits. I would claim bands such as Gorilla Biscuits, Minor Threat or Youth of Today as mine, I loved bands from New York City or DC and I would have given everything to see Fugazi.
I would disappear for 3 days at the time even if I had on me nothing but a few dimes, I could be seen at most alternative gigs and I developed a particular interest for the straight edge movement. There was no way I would replicate what I had been thru at home for years. Straight Edge was described as a subculture of hardcore punk whose adherents refrain from using alcohol, tobacco and other recreational drugs it suited me I had no vocation being a sub version of me, my anger was healthy I wanted to move forward not sink into being a perfect subject for alcohology.
I would rarely show up at home except for reloading my provision of batteries and tapes for my Sony Walkman, get a change of clothes and say hello to my mum. I would cautiously avoid confrontation even though my blood was boiling with resentment. I started to branch out from my friends in the neighbourhood and even my beloved Kate Bush or my buddy Robert Cray could not help me not to go away.
My level of autonomy increased and like most cats I ended behaving like a stray, sometimes at that game all you can do is to lose everything but you never know if you have the right cards anyway. Three o'clock in the morning, too late to go home, I had been seeing a local band and thought I would be sleeping locally in one of those squats I had been in previously.
As I passed a second door he was there half groggy, his tired Iroquoise looked in my direction while his inarticulate mouth yelled at me, it took me a minute to realize he had a loaded gun directed at me. Calmly and maybe on the borderline of irresponsibility boosted by dander as a trigger I deliberately called him a sad mother#*cker.
His yellow eyes laughed nervously, those guys had a short life expectancy, he expected me to have money but on that day I was not doing sympathy as a currency. He did not like my answer obviously but did not nothing when I went past him, there is nothing really punky in being a junkie, you are just another victim of the tyranny. The encounter took its toll on me and I felt exhausted, the anger had been fuelling me but on that night I finally got low on energy.
Maybe it was time to go home, I had two options I could rush to Porte D'Orleans and take the bus who takes the Nationale 20 or I could take the R.E.R B all the way to Massy. It was still a.m at six thirty and after a strong coffee I decided to take the bus an option rather lengthy.
For almost eight months all I did was to wander but it did not matter.
I did not want to be taught I wanted to learn
Rage ÷ Angry = Toxicity
Peace
Sources
People & Stuff
Photo Credit
Anger by night
Produced for beBee only
"
You have no groups that fit your search