5 years ago · 3 min. reading time · visibility 0 ·
An Ordinary Journey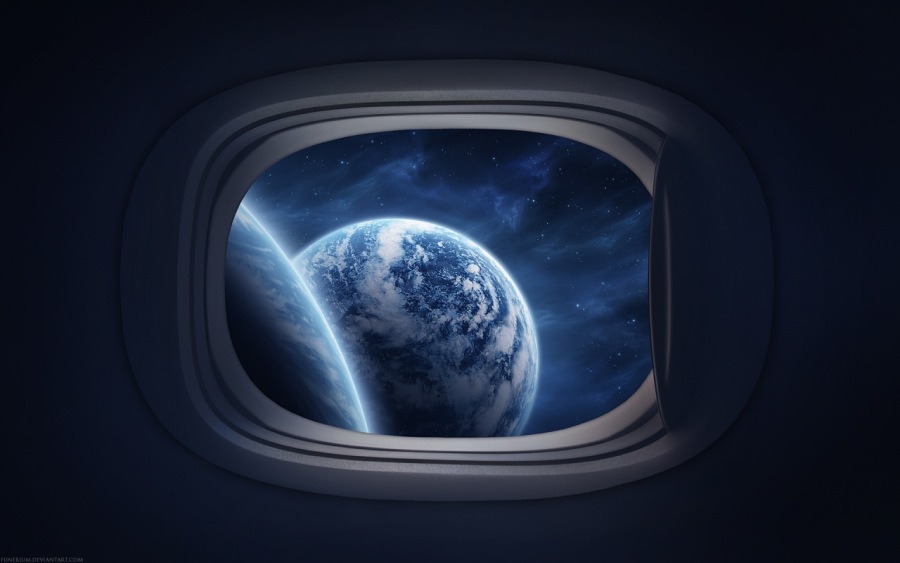 The seat is very comfortable but I am really not mad about long hauls, we are two hours in our journey when I check my watch, it's 11 AM on Tuesday the 11th of March 2457 or 2:00 AM Galactic time.
I got a new job as Head of Security and Development @ Sideric Inc, I got a contract seal for 18 months where I will have to oversee the operations and maintenance on multiple sites spread out along the milky way. Today is my second day and I have been shipped to Alkaid some 94 million Km from Earth.
For some reasons I have not managed to secure a direct flight to Alkaid and I have settled for a cheaper option including four stops. The first one was on the Moon only a few mns away from Cape Town, second one being Venus one hour away from now before we stop for refuel on Mars with a view to reach Alkaid my final destination after an 8-hour journey.
I am glad we are past the first stop, I know it takes less than 10 mns to get to the moon but I am always very unsettled @ the sight of mourning families heading to one of the 200 crematoriums, there is an incessant procession of funeral cargo ships, we are now roughly 10 billion inhabitants on earth with an extra 900 million spread out across various Galactic territories but the critical mass of migrants live on the main seven planets of our solar system.
After the Big Day, the Confederation realized we were running out of space and it was decided I think sometime in 2230 if I am right to modify the primary purpose of the moon to become a gigantic funeral house. As you may guess there was a lot of pros and cons and like any project there was fierce opposition in the end common sense prevailed.
For now I have to deal with families heading to one of the numerous holiday resorts on Venus, the kids are alright but Venus being a free jurisdiction the terms of reference have allowed this territory to become the epicentre of galactic finance including the set-up of numerous Banks HQ and other off shore firms, I let you imagine the motley crew and mix of characters on board, well I suppose it is not that far and for those who can afford the trip who would not spend a few Arcans for mid-term break some 41 million kms away from a foggy earth.
I won't have time to hop off at the next stop but it is on my bucket list to visit the Mars One Museum, I have never been to the exhibition even at school considering Mars is one of the last planet when under 16 can travel to without a parental authorization. I have always been fascinated by the story of those pioneers the long journey over, the excitement to reach the goal, the uncertainty about the future. Numerous books have been written about it some are good some are questionable but I really like Criat Jones who described the last few days of the mission sent into the unknown in 2027 I believe.
Wow those guys were the ultimate adventurers back in a day but clearly they had no clue about what they had signed up to I guess nobody would have thought that cannibalism was a human trait of character. The whole thing was as primitive as the space ship that took them on their last journey, they managed to survive 17 years there and that's what the museum has attempted to recreate. Well maybe next time then.
I was speaking to my uncle at the week end and we were having a quick chat in one of those oxygen cafes, as an ex engineer he had worked for a long time on Jupiter one of our main technical stations (624 million kms from earth), he recalled the clearance process was pretty heavy as anybody travelling over 150 million away from any port of call on earth has to have clearance.
He also worked on one of our most advanced posts namely Neptune where our Confederation has established an Observatory, as we were chatting away he mentioned he never had the opportunity to work on Saturn (1.25 billion kms from earth) or Uranus (2.72 billion) partially he reckons because both had restricted access to authorized personal only and also because the confederation moved all the Goverment projects further from earth reach, you may remember the teleportation project who got abandoned because of serious side effects and other anti matter catastrophic consequences.
Nobody knows what is going there really, fact is we have never asked either we have this famous expression 'Don't greet an alien unless he salutes you'' fact is we have never encountered a single extra-terrestrial life in our entire history, now I suppose this left Saturn being only a relay point on any sidereal journey I am told today there is only one maintenance unit stationed there, so no wonder why it is nicknamed the Lonely Planet.
As I recoup my thoughts I am getting a cup of vintage coffee from the flight attendant a very nice and attractive Mark 3 from the last generation @ Human Helpers Ltd.
As I am about to put my glasses on and read my H+ Book* I am thinking about how current is the title of this book written twenty years ago
Plus ça change, plus c'est la même chose ?
*Hologram Book
Sources
Too much adrenalin
Photo Crédit
Space Window Wide
"
You have no groups that fit your search