4 years ago · 7 min. reading time · visibility 0 ·
A volcano, a bit of History and a road trip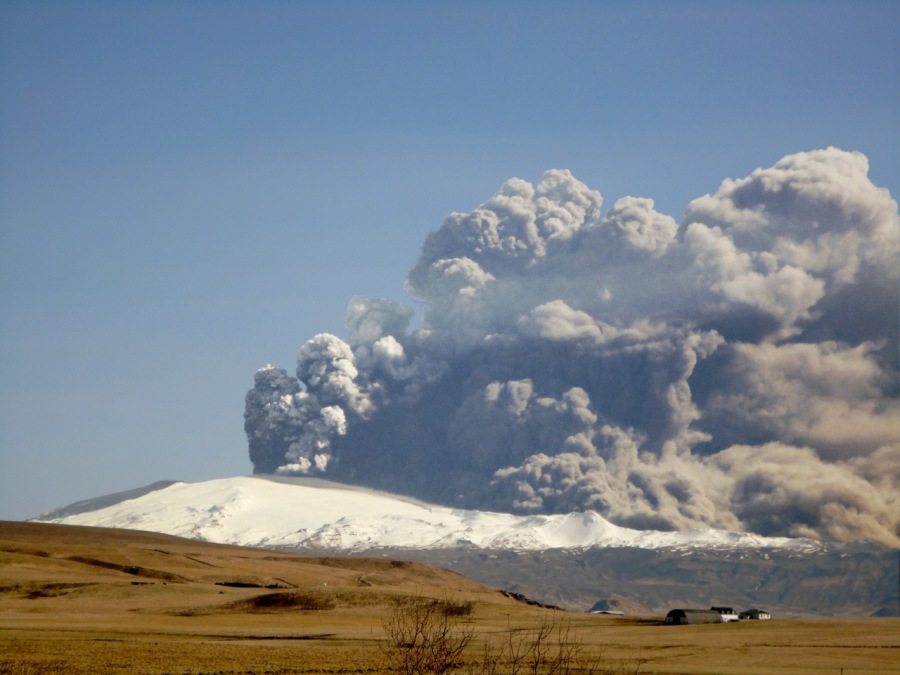 The Context
Before I jump into the heart of the matter, I think a bit of context and storytelling landscaping is necessary to fully grasp the volcanic aspect of what I am about to share. I rarely speak about my day job but I suppose I can make an exception and I also believe in time prescription.
So, for the business heads among you, back in 2009/2010 I was heading the Central Eastern European operations back engine for a large corporation administrating 250 million worth of revenue over roughly 30 Countries east of Berlin.
The change management aficionados may be pleased to hear that 2010 was the year where I went on a large-scale change implementation involving the dismantlement of local operations teams and the migration of all subsequent activities to a 2-tier team model based in Ireland and the Philippines.
Typical stakeholder management was part of the game and I had been travelling and did a lot of meet and greet stop overs from January onwards that year and this in numerous places like Estonia and the Baltic Region, Bosnia and the Balkan region, I also went to all the major hubs that were Budapest, Prague, a Slovenian trip was still very recent and a visit to Moscow was planned for End of May.
In April I was In Warsaw for a 3-day trip with one member of my team, I had travelled a lot as you could sense it and I was not overly impressed at the breaking news that a temperamental volcano and hormonal air space officials would jeopardize my return date. Little I knew.
The Volcano
So, who was that Volcano that seemed to have some serious behavioural issues? I found out quickly that his name was Eyjafjallajökull, a small Icelandic buddy full of energy who was in an erupting mood for reasons that I am not privy of.
Whatever it was, he made sure his concerns got shared by roughly 10 million travellers across Northern and Southern Europe.The mighty little puffer disrupted air travel so much that about twenty countries closed their air space for roughly six days or so from the 14th of April.
It is said that it created the highest level of air travel disruption since the Second World War. Lucky me. Initially planned to fly back to Dublin on the Wednesday it became apparent that it would not be the case, some options to fly back thru Lisbon were considered for me but alas the idea had to be abandoned by Thursday morning, Friday was a wait and see moment and by Sunday morning all air travel was at a standstill. I decided to stay put.
A Week End in Warsaw
Friday evening I ended up meeting two Scottish guys from a charity organization and their Ukrainian driver at the hotel  bar and we exchanged some considerations about what to do next, they could hear me saying that I was planning to wait at least until Sunday evening before making any plans, partly because there was no other option and who knows the ban could be lifted by then I hoped. With this in mind I had told Anna who I was travelling with that she could meet her family down in Krakow and that we would advise on the next course of action depending on the developments.
In the meantime, I found out quickly that my two Scottish friends were heading by car the morning after towards a port in the Denmark with the intent to embark on a ferry, I also noticed they were short of cash so I covered the meal for them* and their driver and we ended up having a great evening despite being stranded. I left them early enough as I had planned to have breakfast with one of my Belgian colleague the morning after.
Luc was on an assignment as a local exec and got caught by surprise by the volcano crisis, ironically, he was not to meant to be there that week but had caught his holidays short for an emergency meeting, his family was still somewhere in Spain and his car was still parked near Paris just to add some complexity to the travel equation while the family home was in Brussels.
I meet Luc the day after and after queuing together at the central train station we were told there was only ticket left for the itinerary that Luc and I had in mind. One ticket two people but it was clear to me there was no dilemma to face and without entering too much details Luc's family situation prevailed and we decided he was the one to take the train early the following morning. We agreed to meet up in the very same evening for a meal and I wandered the rest of the day thru Warsaw and the old town.
I was to meet Luc in the evening and we went to a sushi restaurant, gosh I had not realized Sushi was that popular in Poland. We spoke about various stuff, work, family hobbies and stuff and when asked about my plans I mentioned that I would decide on the Sunday evening and that I would probably head towards the old town and the National Funeral ceremony tomorrow morning.
History in the making
On Sunday10 April 2010 on central place which I don't remember the name of I was among thousands and thousands of Polish who made the journey towards a massive stage where dignitaries and officials were about to kick start one of the most grim and emotional service I had ever attended. It is in Polish but the intensity and level of emotion when the 96 names of the people who died earlier in the crash of Tupolev TU 154 is at an all-time high.
It was a paradox that I was here at a State funeral while a significant number of foreign dignitaries were unable to attend the funeral because of the eruption of the volcano. I felt I was part of an historic moment here in Warsaw. We did stand on our feet for the most part of three hours with military hours rendered and other funeral protocols taking place while the dispositions for the second part of the State funeral to be held in Krakow where ultimately the president and his wife would be laid to rest in the Wawel Cathedral.
Anna got back to Warsaw that evening and providing she mastered the local lingo she managed to book a train ticket for two to Berlin. We had no real plan but the idea was to get closer to home and reassess our options on the way.
Berlin
Who knew there were two train stations in Berlin, well I certainly did not know that. The trip over the German city had been pleasant, the polish train was laid out with vast compartments for 6 to 8 people and we found ourselves with another bunch of travelling misfits.There was some Danes and Swedes making a desperate attempt to go home, I think there were some south American folks trying to get back to Spain alongside a handful of Germans including one journalist who had covered the funeral the day before.
I got on well with the journalist and we teased each other gently thru the four hour journey, the German customs officers greeted the journalist by his first name which I found a bit odd but once he dropped off at the station in Berlin the two other Germans travelling with us told me I had been teasing one of the most popular and well known journalists in Germany hence the deferring attitude from the customs, one of our travelling companions added that he probably and almost certainly enjoyed being treated as Joe Blogs for once. 
Brussels
Berlin main train station was super crowded and I would not have blamed you for thinking that almost half of Europe was on the move at that time, Anna being as resourceful as it can be did display some of her magic in order to secure some tickets to Brussels via another town in Germany, town which I have completely forgotten the name of it could be Frankfurt or Cologne it would not make any difference. We arrived late in the evening in Brussels with no idea where to sleep originally but Amex had secured us two rooms at the local Marriott opposite the trains station. We checked in at 1.00AM and checked out at 6.00AM
All the travel web sites were jammed so we queued in front the ticket office before it opened, we were obviously not the only ones so we split and adopted a divide and conquer approach the first talking with the cashier would advise the other one…. It was Anna who won the contest and secured the precious passes to my hometown. We hoped on the train and I called home to reassure the family on my whereabouts.
Paris
While travelling from Brussels to Paris, thanks to the Wi-Fi on board, we had been booked on two ferry options one from Cherbourg to Rosslare and one from Wales to Ireland, in the end we decided to go with the second option but first we had to reach Paris.
Now wait for it… it turned out that Anna's dad was a taxi driver in Paris…. The daughter and father reunion was unplanned but was the most touching and emotional highlight of the journey so far. I sat at the back, the proud polish father was speaking to me in French, I was translating to his daughter in English and I finally let the two of them catch up in Polish. Anna took the wheel, we embarked on the underground train to cross the channel and all the way to London a city when not a single one of us had ever driven thru. People at first were surprised to see a French taxi in the middle of London but we did not care but a little bit flattered by the attention, nods and other thumbs up but we were tired and all that really mattered to us was to catch a train in the direction of Holyhead.
Paddington Station London
It was quicker and easier than any of the last 50 hours' travel experience we went thru when it came to buy the two tickets, with an unfamiliar sense of normality we embarked on the train after we thank Anna's daddy for his precious help and wished him a good trip back home.
The train journey would have been uneventful and almost dull and monotonous if it had not been for a chat with another Irish guy who was making a similar trip than us from the Netherlands.
Holyhead Wales
We arrived at around 20.00 in Holyhead and hurried promptly to the ticket office to make sure our names were on the passenger list. The good news was that it was a BIG FAT Yes, the not so god news was that were booked as standing passenger. We ate some disgusting sandwiches at a mediocre cafeteria washed by an awful cup of coffee before boarding an Irish Ferry, we were close to home but not here yet first we had to cross the Irish Sea in the company of hundred of other travelling zombies.
Many people looked exhausted, those who travelled with young families seemed to be on the verge of breakdown and if it had not been for the kindness of the staff I think a lot of people would have flooded the passenger seats with tears and acidic frustration.
I don't sleep well or at all when I travel so I kept an eye on the bags while Anna felt asleep on one of the couch. Speaking of bags, Anna's bag was big enough so I kept asking her during the trip how many pair of shoes she had in it because from where I was standing it was closer to a container on wheels rather than a carry on item especially when I offered to carry it every now and again in the previous 60 hours. When I asked if she could maybe get rid of a few of them…. Hmm I let you guess that the reply was not reaching any advantage point for my back.
Dublin Harbour
We are finally home, it is about 5.30 in the morning. I got into a cab after thanking Anna's for all her help and company during this eventful road trip and since we were too shattered to make it last a lifetime we expedited our good byes. The whole thing was a bit of an anti-climax I must say and left me emotionally confused.
I was home before anybody was up, adrenalin on the high I was kind of thinking that I was done with travels for a while.
Two days after our return home the air restriction was lifted.
Three weeks later I am on a two-leg flight direction Moscow.
In October 2010, Ármann Höskuldsson, a scientist at the University of Iceland Institute of Earth Sciences declared that the eruption was officially over
Sources
Wikipedia
Photo Credit
Eyjafjallajökull, volcano plume on 18th of April 2010
* the two Scottish gentlemen who were ministers for Church Of Scotland have sent me a Christmas every year since 2010
To Anna's dad RIP
"
You have no groups that fit your search