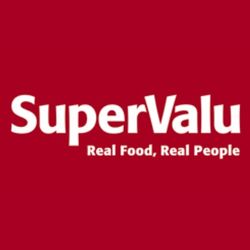 SuperValu in Ireland
Retail
83 jobs at SuperValu in Ireland
A history of grocery excellence
Our roots are in supply chain and wholesale distribution; in subsequent years we've grown to include traditional and hard discount grocery retail formats. Superior service, engrained in our culture, sets us apart from the competition and provides the experience our customers expect.

Our company today
SUPERVALU operates a complete range of grocery formats and merchandising programs that address the unique preferences of the communities we serve and allow us to satisfy differing regional tastes. Today, SUPERVALU and its 35,000 employees serve customers across the United States through a network of approximately 3,420 stores composed of 1,900 stores serviced primarily by the Company's food distribution business, 191 traditional retail stores, and 1,334 hard-discount stores, of which 957 are operated by licensee owners. Annual sales total approximately $17 billion.

We proudly provide millions of customers with the best products on the shelves: national brands and our high-quality and affordable private label products. Our combined expertise in grocery, pharmacy, independent business and supply chain operations provides SUPERVALU with a strong platform for sustainable success.