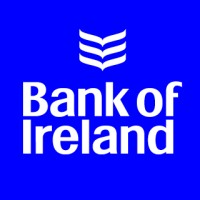 Bank of Ireland in Ireland
Banking / Loans
81 jobs at Bank of Ireland in Ireland
---

Bank of Ireland

Kerry, Ireland

Welcome Adviser - Dooradoyle - 6 Month SAL · Kerry, Ireland | Onsite · Temporary - Fixed Term | Full time · Closing date: Apr 20, 2023

---

Bank of Ireland

Dublin, Ireland

Change Capability and Communications Lead · Dublin, Republic of Ireland | Hybrid · Permanent | Full time · Closing date: Mar 27, 2023

---

Bank of Ireland

Dublin, Ireland

Senior Data Analyst · Dublin, Republic of Ireland | Hybrid · Permanent | Full time · Closing date: Apr 7, 2023

---

Bank of Ireland

Dublin, Ireland

What is the opportunity? · The Senior Corporate & Markets Solution Architects take ownership of the entire technical solution on large, complex programmes, across all architecture domains and all phases of the SDLC. · You will collaborate with Enterprise Architects, Business Stak ...

---

Bank of Ireland

Dublin, Ireland

What is the opportunity? · We are seeking to hire an experienced professional to join the GIA Customer & Conduct Team. This is a unique opportunity to view the Bank through a holistic lens. You will work closely with stakeholders across Retail and Corporate Banking & Markets div ...

---

Bank of Ireland

Dublin, Ireland

What is the opportunity? · As the Release Manager you will get to manage and deliver multiple releases across our Consumer & Corporate Digital Channels · You will be part of a Dynamic team of like-minded professionals with a broad range of experience and backgrounds across IT and ...

---

Bank of Ireland

Dublin, Ireland

What is the opportunity? · As a Senior Infrastructure Designer, you will get the chance to work closely with our Group Change and IT Engineering and Delivery division. You will be supporting a portfolio of projects/programmes. Your Key purpose will be to ensure consistent design ...

---

Bank of Ireland

Dublin, Ireland

What is the opportunity? · As a Lead UX Researcher you'll be integral to the wider Marketing team, and well versed in user-centred design methodologies, including user research and journey optimisation. · As we move deeper into the development of a Design culture, we're standing ...

---

Bank of Ireland

Dublin, Ireland

What is the opportunity? · This is an outstanding opportunity to advise and support Core processing engine simplification and modernisation to ensure that business and technology outcomes are achieved and Bank of Ireland's growth ambitions are supported · The Lead Architect - Cor ...

---

Bank of Ireland

Dublin, Ireland

What is the opportunity · This is an excellent opportunity for you to join a highly performing risk management Team. You will have a chance to acquire / expand global capital markets' risk management and business expertise in a multifaceted and friendly environment, where people ...

---

Bank of Ireland

Dublin, Ireland

What is the opportunity? · This is a fantastic opportunity for an ambitious self-motivated and flexible individual to join a dynamic analytics unit, becoming a key member of a team dedicated to quality and accountability You will contribute to the delivery of insightful reports a ...

---

Bank of Ireland

Dublin, Ireland

What is the Opportunity? · Accurately detailed and maintained end to end process maps enable us to perform optimally, reduce our costs and ennder confidence in regulators and investors which supports our ability to grow. In short, Process Mapping is a key enabler not only in mana ...

---

Bank of Ireland

Dublin, Ireland

What is the opportunity? · To manage EMS test environments so that they are built consistently, integrated with BoI's CI/CD pipelines and use BoI's strategic set of dev/build/test/deploy strategic toolset. · The role involves working closely with existing development teams and th ...

---

Bank of Ireland

Dublin, Ireland

New Business Administrator · Dublin, Republic of Ireland | Hybrid · Permanent | Full time · Closing date: Mar 26, 2023

---

Bank of Ireland

Dublin, Ireland

What is the opportunity? · We have an opening on our Credit Risk Audit Team within Group Internal Audit, this is an excellent opportunity for you to participate in, and potentially lead, individual credit risk assurance assignments. You will gain an understanding of end-to-end cr ...

---

Bank of Ireland

Dublin, Ireland

What is the opportunity · This is a varied and dynamic role, offering an excellent development opportunity for anyone wishing to build on their digital, credit and analytical skills, to broaden their understanding of the wider business and to increase their profile within Corpora ...

---

Bank of Ireland

Dublin, Ireland

What is the opportunity? · This is an opportunity to work on enterprise Test Databases including technologies like SQL Server, Oracle, Postgres, DB2 etc. on both on premises and on Cloud across multiple application technologies on O/S platforms. · You will lead a mature Data Gove ...

---

Bank of Ireland

Dublin, Ireland

What is the opportunity? · The Infrastructure Database Engineer will have the opportunity to continually modernise, problem-solve and innovate while delivering and supporting a variety of Database Services and Database Management Tools running on industry best-in-class engineered ...

---

Bank of Ireland

Dublin, Ireland

What is the opportunity · This is an excellent opportunity for you to join a highly performing risk management Team. You will have a chance to acquire / expand global capital markets' risk management and business expertise in a multifaceted and friendly environment, where people ...

---

Bank of Ireland

Dublin, Ireland

Principal Architect - Integration · Dublin, Republic of Ireland | Hybrid · Permanent | Full time · Closing date: Mar 31, 2023
Bank of Ireland is the leading financial services provider in Ireland with a growing consumer financial services offering in the UK. We have significant corporate banking & treasury business across Ireland, UK, Europe & the USA. For over 230 years, we have been helping people and businesses with all their financial needs providing everything from current accounts to corporate finance. We were the first bank in Ireland to introduce ATMs, phone banking, online banking and mobile banking.

For small steps, for big steps, for life.

We connect with people in every corner of Ireland and the UK. Through our branch network across Ireland and Northern Ireland and via Post Office branches in the UK that distribute our products. Our customers come from diverse backgrounds and so do our people. We have loyal and long-serving employees who stay with us because of the people they work with every day, the culture and the opportunities to delight our customers. As banking changes, we also have innovative, dynamic self-starters attracted by the new opportunities to build a career with us.

Investing….our People.

We offer our employees a range of benefits such as free banking, preferential rates loans & financial products, holiday & insurance funds, generous annual leave, and staff offers. We also have many sports & social clubs, award-winning learning & development and opportunities to get involved in volunteering and collecting for charities through our Give Together initiative.

Bright? Ambitious?

We are always looking for bright, ambitious people wanting to make a difference in a bank that puts its customers at the heart of everything it does. You don't need to know everything about banking - we can teach you that - but you do need strong business acumen and the right attitude. We're proud of our people and what they do. If you work for us with that same pride, you'll find our bank is a super place to build a career.

Join our team for opportunity, challenge, and an exciting place to work.

We offer a wide variety of roles particularly in niche and specialist roles, customer-facing roles, and opportunities for financial advisors. We also have opportunities for roles you might not immediately think of in relation to banking. So connect with us so we can keep you updated as opportunities arise that match your skills & experience. Our people all have access to our award-winning training & development curriculum delivered online and on instructor-led training. We also offer support for professional banking qualifications for relevant roles.

Our people our present, our future.

Every organisation will tell you that their people are their most prized asset, that they are what makes an organisation what it is. We'll tell you that too. The difference is however, we prove it - through commitment to nurturing, encouraging, challenging and training our people. Getting the best from you brings out the best in us. When you succeed, we succeed.
Our employees are the key to our success. We want our team to enjoy the work they do and the environment they work in. We aim to create a workplace with clear roles and objectives, support from management and colleagues, ongoing Learning and Development , involvement in interesting projects and opportunity to work in different business areas. Community and the environment are important to us and many of our employees are actively involved in fundraising and other activities.

What makes a job with us better?
Our greatest asset walks in and out of our offices every day; our people. That's why we strive to look after their personal and professional development and the growth of their careers.

Professional training: There is a range of supports available for your professional qualifications, including time off to study.

Volunteering: Alongside our commitment to our charity partners, we donate a day a year for you to give back to your community and help a charity or cause you're truly passionate about.

Personal development: Your continuing commitment to personal development will be supported through our Learning and Development offering.

Look after yourself: From meditation to football, whatever keeps you sharp we're up for nurturing with our improvement benefits.

Pay & benefits: We provide a range of benefits to support you to deliver your best.

Drive your new career journey: Our new career framework will help you direct your own career so you can capitalise on the many opportunities within the organisation.
As an organisation, our purpose is to enable our customers, colleagues and communities to thrive.
At the heart of this purpose is our commitment to Inclusion & Diversity: To foster an inclusive working environment where all colleagues are enabled to reach their full potential – and to attract, promote and retain diverse talent at all levels. By enabling our colleagues in this way, business success is created through an increased understanding and representation of the needs of our customers and communities.